Rasmus' walk-off single lifts Blue Jays to series win
Rasmus' walk-off single lifts Blue Jays to series win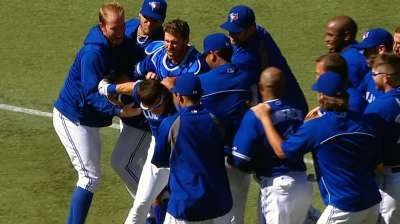 TORONTO -- Colby Rasmus chose the perfect time to get his first hit of the day.
After failing to get on base all game, the Blue Jays center fielder stroked the game-winning single up the middle to lead his club to a 2-1 victory over the Astros at Rogers Centre on Sunday afternoon.
In the ninth inning, the hot-hitting 26-year-old came to the plate with men on base, a situation he'd seen a lot in the game. However, this time he'd walk away on the better end of it.
With Emilio Bonifacio on second after a leadoff double, Rasmus worked the count full against left-hander Wesley Wright. He then hit a 3-2 sinker off of Wright up through the middle of the infield, scoring the speedy Bonifacio easily for the game's winning run.
"The last at-bat, I went up there telling myself I'm looking for a cookie and I'm not swinging at nothing else until I have to," Rasmus said. "That was my approach, and that was the way I should have handled it."
Prior to the at-bat, he had struggled, going hitless in four at-bats and leaving a team-high five men on base.
The biggest of those opportunities came in the seventh inning. Rasmus came up with the bases loaded, but he popped up to Astros second baseman Jake Elmore to end the threat.
"That was a tough one," Rasmus said. "Coming up and they walk Edwin in front of me. Some things didn't go my way; it wasn't the easiest at-bat."
However, the Georgia native didn't take his failures with him in his next at-bat. Rasmus, who's been overly hard on himself in the past, is learning to let things go more than in the past.
"I just try to focus on ways to get things off my mind and off my chest. Let some things go that bother me," Rasmus said. "Just come back the next day as a fresh day and go out there and battle."
Rasmus' hit was the only one the Blue Jays could muster with men in scoring position in a game that was plagued by missed opportunities from the home squad.
"Colby stepped up," Blue Jays manager John Gibbons said. "It was a frustrating night leading to that.
"All those guys we left on base -- we had opportunities, couldn't capitalize."
The most notable opportunities came in the seventh and eighth inning.
Although Rasmus would eventually end the inning, Jose Bautista also had a chance at cashing in some runs. However, he would end up striking out, and was subsequently ejected for arguing balls and strikes.
In the following inning, it was a game-saving catch from Astros center fielder Brandon Barnes that stopped the club from scoring a go-ahead run.
With Rajai Davis on first and J.P. Arencibia at the plate, Barnes made a leaping grab against the wall in the alley in left-center field, denying an extra-base hit for Arencibia. At the time, Davis was already around second and would have scored easily had it not been for that catch.
In total, Toronto went 1-for-11 with runners in scoring position and left 14 runners on base.
That would eventually cost starter Todd Redmond, who deserved better than a no-decision after a career-best performance.
Redmond, who was making his fourth start for the club since being called up from Triple-A Buffalo, didn't have any troubles disposing of the Astros. The right-hander tossed six innings of one-run ball, allowing three hits and walking two, while striking out a career-high 10 batters.
"I just come up here and try to keep the guys in the game so we can have a chance to win," Redmond said.
"He was effectively wild," Astros manager Bo Porter said. "We expanded our zone a little bit, which probably aided him in the strikeout total. His pitch count was up pretty high the first three or four innings and we had an opportunity to really get into their 'pen much earlier than we did, and I think we helped him out by expanding their strike zone."
The only blemish on his afternoon was a solo home run to former Blue Jay Brett Wallace, who was shipped off in the deal to acquire outfielder Anthony Gose. Wallace hit a 3-1 sinker into the first deck in right-center field, squaring the game at 1.
Wallace's home run was his sixth of the season, and came just after Toronto put a run on the board, diminishing the club's very short-lived lead.
The Blue Jays opened the scoring in the bottom of the third when Edwin Encarnacion hit a sacrifice fly to center field, scoring Jose Reyes from third. That would be the only run the club would get against rookie Jarred Cosart.
Cosart wasn't particularly sharp with his location, walking five batters and allowing four hits, but he was able to escape without much damage over his six innings on the mound. He stranded seven batters and held the Blue Jays hitless with runners in scoring position.
With the win, the Blue Jays took their first series since July 5-7 vs. the Twins, and improved to 3-7 on a rough homestand.
"It's huge," Rasmus said of the series victory. "We have to put as many wins together as we can. Keep battling. Keep grinding. Not get beat down with some of the things that don't go our way. Stay positive and get on this West Coast trip and go out there and try to win some ballgames."
Evan Peaslee is an associate reporter for MLB.com. Follow him on Twitter at @EvanPeaslee. This story was not subject to the approval of Major League Baseball or its clubs.