Myers homers twice in Rays' loss to Yankees
Myers homers twice in Rays' loss to Yankees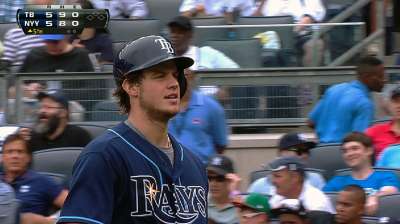 NEW YORK -- Wil Myers' homers weren't enough Sunday as the Rays endured a 6-5 walk-off loss to the Yankees in the Bronx when Alfonso Soriano singled home the winning run in the bottom of the ninth.
Tampa Bay (62-43) fell to 7-2 on its 10-game road trip to start the second half and lost first place in the process as the Red Sox defeated the Orioles, 5-0, to move back in front by a half-game. The Rays will return home Monday night after playing the Red Sox in the makeup game from Thursday's rainout in Boston.
"Deja vu all over again," said Rays manager Joe Maddon about the Rays returning to Boston a half-game out of first. "I was hoping to get up there and see us on top of that [standings] board. We're not, just keep plugging away."
Myers accounted for four of the Rays' five runs with two home runs, giving the rookie outfielder his first career multi-homer game while extending his hitting streak to nine games. During his current streak, Myers is hitting .474 with four home runs and 11 RBIs.
"It's pretty cool to be able to hit two here," Myers said. "I'd rather get the win than hit two home runs. But we're looking forward to going back to Boston and hopefully getting a win there."
Both of Myers' homer came off Yankees starter Phil Hughes.
"I know not to give him a fastball and a slider up and over the plate," Hughes said. "Just bad locations on both of them, and he made me pay."
Unfortunately for the Rays, Myers' work wasn't able to cover the starting pitching, which did not follow its recent run of success.
Matt Moore, fresh from pitching a complete-game shutout against the Red Sox on Wednesday night, allowed five earned runs in five innings to take a no-decision while snapping a six-start winning streak that stretched from June 20 through July 22.
Moore got off to a poor start in the first by surrendering a home run on the first pitch he threw to Derek Jeter, which was the first the Rays left-hander had allowed in 48 1/3 innings.
"Yeah [it was a frustrating day], my pitch count was never in check. Still felt fine in those moments where things were about to happen. The home run to Jeter, that was like the perfect pitch I know he loves to hit. … As soon as he hit it, I knew he drilled it."
The second home run Moore surrendered wasn't quite as obvious. After Myers' first home run put the Rays up, 4-3, in the third, Soriano answered in the bottom half of the inning with a two-run homer on a 1-0 pitch from Moore, giving Soriano 18 homers for the season and his first since being acquired in a trade with the Cubs.
Soriano's blast just made it over the wall. Myers, playing right field, appeared to have a chance at bringing it back as he backed to the wall and leaped at the last moment. But when he came down, his glove was empty and the Yankees had a 5-4 lead.
"I didn't find the wall like I thought I [needed to]," Myers said. "It actually hit the top of my glove. I'd like to have that one back again."
Myers tied the game in the fifth when he hit his second home run to lead off the inning. This one went out to right and gave him seven on the season.
Alex Torres and Joel Peralta followed Moore, pitching scoreless innings. Jake McGee then pitched a scoreless eighth before returning to pitch the ninth.
From the beginning, the inning unraveled for the Rays.
McGee walked the leadoff hitter, Brett Gardner, before throwing a wild pitch that allowed Gardner to move to second. After intentionally walking Jeter, Maddon visited McGee on the mound prior to McGee striking out Robinson Cano for the first out.
"I just told him we are going to get a double play out of Cano, which we didn't, we got a strikeout," Maddon said. "I said after that then we will deal with Soriano at that point."
Soriano laced a single through the middle on the first pitch he saw from McGee to drive home Gardner with the winning run.
"We were just looking for a ground ball and we got it," Maddon said. "We were just very unlucky with ground balls today being in the wrong spot."
McGee lamented the fact that the pitch he threw was not in the right spot.
"I wished it would have been a little higher," McGee said. "He hits low balls a little better, so if it was a little higher, maybe he wouldn't have hit it as hard or pulled it."
Despite losing, the Rays are still 9-2 in their last 11 games and 21-4 in their last 25.
"A walk-off loss is always a little harder, but we're a strong team and we're going to be ready to go tomorrow with our heads up," McGee said. "Amnesia always a good thing to have."
Bill Chastain is a reporter for MLB.com. This story was not subject to the approval of Major League Baseball or its clubs.