With help from Papi, Lester dominates Orioles
With help from Papi, Lester dominates Orioles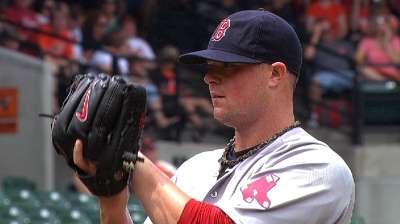 BALTIMORE -- There were some hints that Jon Lester was getting back on track in his previous two starts. But there was nothing subtle about Sunday.
Lester went out and dominated the Orioles at Camden Yards, leading the Red Sox to a 5-0 victory in the rubber match of a three-game series between the division rivals.
Over seven shutout innings, Lester allowed just four hits, walking two and striking out eight.
The performance was his best since the one-hitter he threw against the Blue Jays on May 10.
With Clay Buchholz still out indefinitely, it's hard to overstate just how big a full-fledged resurgence from Lester would be.
"A Jon Lester pitching to his capabilities is going to be one of the better pitchers in the league," said manager John Farrell. "He's shown it the last couple of times out. Again, I think he's getting a better understanding of the overall pitch mix, how to be most effective. His changeup continues to be a very good weapon for him, and he was efficient once again today."
Lester's gem put the Red Sox back in sole possession of first place in the American League East, vaulting them ahead of the Rays -- their opponent on Monday night at Fenway -- by a half-game.
To get back on top, the Sox had two win two out of three against the Orioles, who have haunted them since September 2011.
"These guys play really well against us. Since 2011 they've been making our lives impossible here," said David Ortiz, who went 4-for-4, including a two-run homer. "We're in a situation where we're fighting Tampa [Bay] for first place. It's something we needed."
Lester has pitched well in four of his last five starts, but none of the others had the lights-out feel of this one.
In this one, he dominated with his fastball.
Why did that end up being the game plan for Lester and catcher Jarrod Saltalamacchia?
"It was working," Lester said. "We obviously have a game plan going into every start, and sometimes that changes when you come out of the bullpen. Obviously, Salty liked where my heater was, and I threw a good many two-seamers, too, so that's probably why the fastball total was high. I was able to move it around and keep it down and keep these guys in the ballpark."
If Lester was the biggest story of the day, Ortiz was a close second. His performance came a day after he had a tirade in the dugout that included shattering a phone with his bat.
After going deep on Sunday, Ortiz playfully made a run at the repaired phone, bat in hand, but he didn't strike this time.
And as he rounded the bases following the homer, Ortiz, who was booed all day, put his finger over his lips as a playful reminder that the crowd could quiet down.
"I like the crowd going crazy, cheering against me," Ortiz said. "I like that. That's why I love playing in New York. That gets me going."
Lester pitched with a lead for the entire day.
The Red Sox started a first-inning rally on a one-out walk by Shane Victorino. Then, with one out, Ortiz hit a single to right. Mike Napoli looped an opposite-field double down the line in right to make it a 1-0 game.
It stayed that way until the third, which Jacoby Ellsbury led off with a single to left. With two outs, Ortiz came through with that opposite-field two-run homer to left.
"Just a lot of hard contact," said Farrell. "After he took it out on the phone last night, he took it out on the baseball today. It was good to see."
Lester made that three-run lead stand up by mowing through the Orioles.
The O's best chance came in the sixth, when Chris Davis reached on a rare throwing error by Dustin Pedroia and Adam Jones followed with a single. There was a mini-scare for the Red Sox when Matt Wieters drilled one down the line in left. However, instead of a three-run homer, the ball curled a few feet foul.
Lester then struck out Wieters.
"You never can really tell, especially when the ball is pulled like that," said Lester. "You don't know how well they stayed through it, especially on a changeup. I was fortunate that it went foul. I kept trying to make pitches after that."
Lester made a huge one on J.J. Hardy, getting a 5-4-3 double play that featured a quick release by Jose Iglesias and a superb job by Pedroia of not letting a hard slide deter him.
"Pedey is fearless when it comes to turning a double play," said Farrell. "He hangs in tough when a runner's bearing down on him. Iggy's got such quick hands and quick release, he gets it to him in pretty good fashion there. In that part of the game, where it's still just a three-run game, it was a key play for us."
And a satisfying end to a key series.
"It's huge," said Lester. "The biggest point is that they've given us a lot of trouble this year, and for us to come down here and take two out of three, especially after that series against the Rays, is big for us and puts us in a good position to go back home."
Ian Browne is a reporter for MLB.com. Read his blog, Brownie Points, and follow him on Twitter @IanMBrowne. This story was not subject to the approval of Major League Baseball or its clubs.