Carp's performance could garner more playing time
Carp's performance could garner more playing time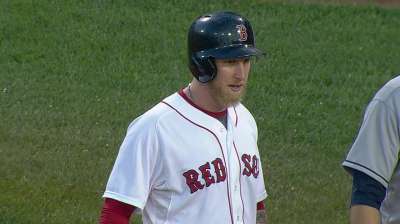 BALTIMORE -- Thriving off the bench all season, Mike Carp might be playing himself into a more regular role.
On Sunday, for the second day in a row, Carp started in left field for the Red Sox.
This, after a three-hit performance on Saturday that raised his average to .329. In 143 at-bats entering Sunday's action, he has eight homers, 28 RBIs and a 1.010 OPS.
"Yeah, and obviously he's done a very good job to date," said manager John Farrell. "It's a fresh body. It's a good swing. He's earning the ABs. Not to say that he doesn't have the ability to play more regularly, but we felt like [with] another right-handed starter [against us], another left-handed bat in there is what we're looking for."
The fact that the left-handed bat was Carp instead of Daniel Nava is noteworthy, if only because Nava has been the primary left fielder against righties this season.
"That's bound to happen over the course of a 162-game season," said Nava. "We're in a spot where it's almost like you can't go wrong with who you put in there, because he's swinging the bat well. and then you could go to Jonny [Gomes], and you know the numbers [he has].
"[Carp's] been swinging the bat well. At some point you just have to choose, 'OK, let's go with this guy.' I think that's a great option to have as a manager. Is it a tough option? Yeah. It is. One guy may not be in there who's playing well, but the other guy is playing really, really well."
Carp has maintained a professional attitude all season, no matter how infrequent his playing time. Perhaps that mind-set is what has allowed him to thrive in his uncertain role.
"With a team like this, it's fun coming to the ballpark regardless of whether you're in the lineup or not," Carp said. "Each day, something exciting, something fun is going to happen. You just hope you can be that guy to get the opportunity."
Of course, like any competitor, Carp would rather be the guy playing.
"That's what we're here for," he said. "Everyone wants to be a starter, but you just have to know your role and know where you fit in, and unfortunately for me, it's been more of a bench role this year. But things have changed. There was a time this year where I played a lot, and there's still a lot of baseball left. Still a little more than two months, so anything can happen."
Nava, always a supportive teammate, expressed hope that Carp would hit three home runs in Sunday's game.
"I'd be the first one on the top step congratulating him," Nava said. "That's what it's about. It's not about individuals."
Ian Browne is a reporter for MLB.com. Read his blog, Brownie Points, and follow him on Twitter @IanMBrowne. This story was not subject to the approval of Major League Baseball or its clubs.