Missed chances hurt Orioles against Red Sox
Missed chances hurt Orioles against Red Sox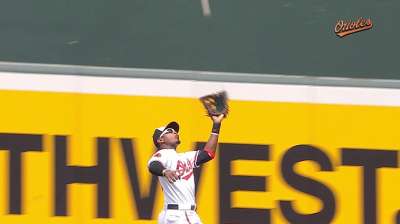 BALTIMORE -- Seeking to gain some ground in the hotly contested American League East, the Orioles instead were shut out, 5-0, on Sunday and dropped the series to the division-leading Red Sox. After Friday's win offered promise, the rest of the weekend represented one step forward and two steps back.
Boston starter Jon Lester stymied Baltimore, helping the Red Sox recapture the division lead from the Rays, who lost to the Yankees. The Red Sox are now 5 1/2 games ahead of the Orioles.
Jason Hammel walked five, and he hasn't won a game in two months.
Hammel was one of the Orioles' better pitchers during last season's playoff run, but Sunday was his 10th consecutive start without a win. The Orioles have won just one of those games, on July 7, when Adam Jones hit a ninth-inning homer off Mariano Rivera in Yankee Stadium for a come-from-behind, 2-1 win.
Hammel's last victory came on May 27, when he allowed two runs over eight innings of work in Washington. Since that start he's averaged fewer than six innings per outing.
He went 5 1/3 innings on Sunday.
The Orioles' offense, meanwhile, could not put a run across, and a big reason was Lester's dominance. The lefty stifled Baltimore's lineup through seven shutout innings, allowing just four hits and two walks to go with his eight strikeouts.
After a leadoff single by Nick Markakis in the first, Lester retired the next 11 hitters.
The Red Sox jumped out to a lead in the first. Shane Victorino drew a one-out walk, David Ortiz singled and Mike Napoli doubled in a run before Hammel struck out the next batter to end the inning.
The Red Sox tagged Hammel again in the third. Jacoby Ellsbury led off with a single, and two batters later, Ortiz hit a two-out homer to left-center to put the Red Sox up, 3-0. Hammel had fallen behind in the count, 2-0, and Ortiz turned around Hammel's slider for his 20th homer of the year.
The Orioles, meanwhile, never got a runner as far as third base. And over Hammel's previous 10 starts, the offense averaged fewer than two runs while he was still in the game; they've plated 18 total with him on the hill over that stretch.
"It wasn't pretty. That's been the theme lately," Hammel said. "Obviously, I wanted to get deeper in the game, and Lester threw a great game."
Manager Buck Showalter said that both pitchers were working with a tighter strike zone, but added that wasn't the primary reason Hammel struggled.
The bigger problem, Showalter said, was the offense.
"The big emphasis, what I look at, is we didn't score any runs. We didn't mount much of anything offensively," Showalter said. "When you're not scoring runs, it certainly creates a lot more emphasis on having to be pretty fine as a pitcher."
Hammel is conscious of his less-than-optimal run over the past 10 games, but he hasn't gotten too down on himself.
"I'm definitely aware of it. Baseball's not fun right now for me. It's frustrating for me," he said. "Things aren't happening my way right now. It's hard for the guys when I'm going out there giving up a run early. They have to battle from behind."
The Orioles had their first good chance to score in the fourth inning. Jones hit a two-out single to snap the streak of hitters retired by Lester, followed by a walk to Matt Wieters that put runners at first and second. But J.J. Hardy popped out to first to end the inning.
Perhaps the Orioles' best chance to score off Lester came in the sixth, when Chris Davis reached on an error and Jones blooped a single to right. Wieters missed out on a game-tying home run to left when his drive landed a few feet foul. He eventually struck out, and Hardy grounded into a 5-4-3 double play to leave the runners at first and second.
"I see the things everybody looks at -- the ERA and what have you -- and I've seen him pitch real well," Showalter said of Hammel, who has a 7-8 record and 5.20 ERA. "Because Ham has pitched well, we know he's capable of better with the command. But there wasn't much margin for error for him today because of Lester. He's pretty good."
Batting from the third spot in the order, Davis went 0-for-4 with three strikeouts. He has struck out at least once in 22 consecutive games, one more game than the previous Orioles record, set by Mark Reynolds.
Boston put away the game in the eighth against reliever T.J. McFarland. Ortiz singled -- his fourth hit of the game -- and Napoli doubled. Then pinch-hitter Jonny Gomes was intentionally walked before Jarrod Saltalamacchia hit a two-run single to right, giving the Red Sox a five-run lead.
It was the first time the Orioles had been shut out since June 8, when they were blanked by the Rays.
The Orioles now have an off-day on Monday before two more home series.
"It's disappointing, especially when you come out with the first win," Markakis said of dropping a series to division rivals. "They're a tough team, and they're a good ballclub, and we'll be seeing them down the road. It's not over yet. We just need to put this behind us, have a nice off-day tomorrow and get some rest and look to finish up this homestand strong."
Derek Wetmore is an associate reporter for MLB.com. This story was not subject to the approval of Major League Baseball or its clubs.