Lough's amazing catch saves Royals' win
Lough's amazing catch saves Royals' win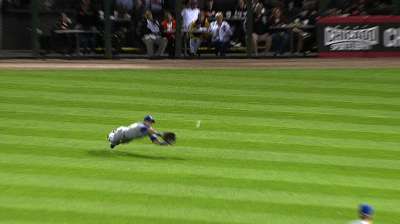 CHICAGO -- If Royals right fielder David Lough had missed Jeff Keppinger's fast-sinking liner and it got past him in the ninth inning on Saturday night, the game likely would've been over with two White Sox runners scoring.
"That's the last thing I'm thinking about. You think that and you do miss it," Lough said.
And it never crossed his mind to try to concede the hit and the tying run by hanging back and playing the ball on one hop.
"No," he said. "You just go for it. That's all I was thinking."
A bonus was that the runner at third base, Alex Rios, failed to tag up and couldn't score after the catch so the Royals' 1-0 lead was preserved.
"It's a do-and-die. You win it or you lose it," manager Ned Yost said. "What's amazing is he ran and when he dove for it -- I looked at the replay -- he had to reach across his body and hold it. Just a great play, it saved the game for us."
Dick Kaegel is a reporter for MLB.com. This story was not subject to the approval of Major League Baseball or its clubs.