Royals blast away in 12th to sweep White Sox
Royals blast away in 12th to sweep White Sox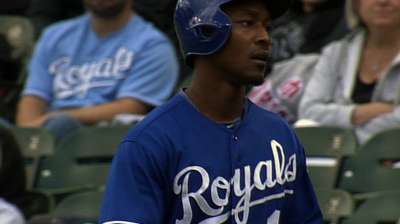 CHICAGO -- Finally, Alex Gordon broke his slump and in a big way. And, finally, the Royals are back at .500. Who knows what's next?
Gordon's two-run homer in the 12th inning gave the Royals a 4-2 victory over the Chicago White Sox on Sunday at U.S. Cellular Field, a series sweep and their sixth straight victory. It also evened their record at 51-51 with 60 games remaining.
"It's really cool," Gordon said. "Since I've been here, I don't think we've been .500 this late in the year so this is a lot of fun. We've got a lot of guys playing well and picking each other up. This is a good team right now."
Before his game-winning bomb, Gordon was 0-for-5 and had struck out with the bases loaded in the fourth inning.
"His confidence never drops," teammate Jarrod Dyson said. "Even though he's going through a rough patch, he's still a tough cookie to pitch to."
Dyson opened the Royals' 12th with a bouncer that second baseman Gordon Beckham fielded but bobbled and didn't get off a throw. So, Dyson was safe on what was ruled a hit.
"That's a single, that's a tough play for him to make," Dyson said, then trotted out his ungrammatical but very accurate motto: "That's what speed do."
Dyson promptly stole second base and continued to third when catcher Josh Phegley's throw went into center field for an error.
Gordon, deep in a 4-for-36 skid, smashed a 2-2 pitch from left-hander Donnie Veal into the center-field seats to snap a 2-2 tie.
"It's a long year, it's a long day, so you've just got to stay with it and not try to take every at-bat and get down," Gordon said. "Defense and pitching kept us in the game -- Dyson had a great play -- and timely hits come because of pitching and defense and that's what it was. It gave us some opportunities, had plenty of chances today and finally came through."
Dyson was a double hero for the day. He kept the White Sox from winning it in the 10th inning with a throw to catcher Salvador Perez at the plate.
Pinch-runner Blake Tekotte was at second base with two outs when Alejandro De Aza, facing Tim Collins, ripped a single into center field. Tekotte took off for home.
Dyson said outfield coach Rusty Kuntz had positioned him perfectly.
"The ball was hit and I tried my best not to run too hard and bobble it," Dyson said. "I made sure to catch it first and when I caught it and looked up, I just saw the guy just hitting third. I didn't try to do too much on the throw, just get it there on one hop. I did a great job of doing that and Salvy did a great job of making the play."
The 10th inning was over, but there were two more ahead.
"You turned it over to the bullpens and you knew you could be here for a while," Royals manager Ned Yost said. "It was one of the days where whoever blinked first was going to be in trouble, but our defense didn't allow us to blink. Dice made a tremendous throw. As soon as [De Aza] hit that ball and I saw Dice come on, I knew he was out at the plate."
Left-hander Bruce Chen started for the Royals and held a 2-1 lead until the sixth inning when, on a 1-1 pitch, he tried to sneak a fastball past Adam Dunn. It didn't work. Dunn deposited the ball in the center-field bleachers and the score was tied.
Luke Hochevar, Kelvin Herrera, Collins and Aaron Crow combined to give the Royals five scoreless innings of relief.
"When it comes to Kansas City, you've got to get them early in the game. They have a lot of great arms in the bullpen," said the White Sox's Paul Konerko. "They probably have the best bullpen we face all year, not to take anything away the other ones. Man for man, they're probably as good as it gets. You have to try to bust something open early because it's tough to do it late."
After Gordon's home run, of course, it was time for closer Greg Holland.
But the Sox didn't go down easy in their half of the 12th. Holland got one out before Jeff Keppinger and Tekotte each singled, but Holland retired the next two batters for his 27th save.
"We really don't worry about Holly too much, because we know he's going to get the job done," Dyson said. "He's the best competitor we've got going right now."
The last time the Royals got to .500 was June 17, when they were 34-34 after winning 11 of 13 games. What happened then? Ouch, they lost four straight and hadn't been able to get even until now.
So that's something they'll be trying to avoid as, after Monday's open date, the Royals travel to Minnesota and New York for Interleague action with the Mets.
"We're just playing great baseball right now," Dyson said. "We've played our worst baseball already so we can't do nothing but go uphill right now."
It's been a battle.
"When we came out of the All-Star break, we said, 'It's time to go,' and this is what we meant," Yost said.
"Getting back to .500, that was a chore. We were like nine games under at one time. ... To get here was big, now we've got to get past it."
Dick Kaegel is a reporter for MLB.com. This story was not subject to the approval of Major League Baseball or its clubs.