Sox miss chances in extra-innings loss to KC
Sox miss chances in extra-innings loss to KC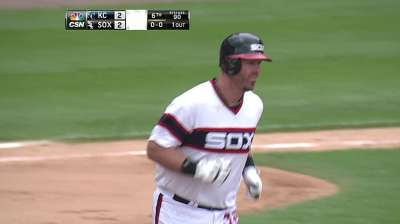 CHICAGO -- Three runs in three games won't win many games.
The White Sox confirmed that this weekend at U.S. Cellular Field, as their stellar starting pitching and bullpen were trumped by Kansas City's, as the Royals completed a three-game sweep with a 4-2 extra-inning win on Sunday behind Alex Gordon's 12th-inning two-run home run.
"I think pitching-wise, our guys gave us every opportunity. We just didn't come up with much," White Sox manager Robin Ventura said. "That's frustrating and all that stuff goes with it. Just has to be better if you're going to win games."
The Royals outscored the White Sox, 10-3, on a weekend that saw shutdown pitching performances from Jose Quintana on Friday (two runs in seven innings), Chris Sale on Saturday (one-run complete game) and Hector Santiago on Sunday (two runs in 6 2/3 innings).
The White Sox bullpen also chipped in on Sunday, allowing only Gordon's two-run homer in what was otherwise six solid innings.
The weekend series with the Royals was basically Chicago's season embodied by three games: great pitching and not enough offense.
One day after getting blanked, the White Sox offense showed fight, twice coming from behind when Adam Dunn hit a game-tying solo homer in the sixth and Paul Konerko knocked an RBI single to left in the first.
The White Sox had a chance to win in the 10th, but Blake Tekotte -- pinch-running after Dayan Viciedo's leadoff single -- was thrown out at home by Royals center fielder Jarrod Dyson to end the inning.
"The ball was hit and I tried my best not to run too hard and bobble it," Dyson said. "I made sure to catch it first and when I caught it and looked up, I just saw the guy just hitting third. I didn't try to do too much on the throw, just get it there on one hop. I did a great job of doing that and [Royals catcher Salvador Perez] did a great job of making the play."
The Royals made the extra-inning plays. The White Sox, however, did not.
Although Gordon's blast was the decisive blow, the White Sox defense put left-hander Donnie Veal (1-1) in a tough spot. Dyson began the 12th with an infield single to second that Gordon Beckham couldn't cleanly transfer from glove to hand.
Dyson promptly stole second and catcher Josh Phegley's throw sailed into center field, putting Dyson on third with no outs. Gordon followed by launching Veal's 2-2 fastball over the center-field wall.
Veal's lone miscue sullied a great bullpen effort in relief of Santiago. Right-handed reliever Nate Jones struck out four in 2 1/3 innings, Addison Reed worked a perfect 10th and Veal put down the Royals in order in the 11th before surrendering Gordon's blast.
"They were tough," Ventura said of the 'pen. "Jonesy came in, picked us up. We just couldn't push that one across at the right time."
The loss was Chicago's ninth in its last 12 games, dropping the White Sox to 22 games below .500 for the first time since Sept. 15, 2007, when they were 63-85.
The White Sox also fell to 5-10 in extra-inning games this season, in the series finale thanks mostly to a Royals bullpen that held Chicago to four hits in six scoreless innings.
"They probably have the best bullpen we face all year, not to take anything away from the other ones," Konerko said. "Man for man, they're probably as good as it gets. You have to try to bust something open early because it's tough to do it late."
Santiago, while not as sharp as he has been recently, still turned in a performance worthy of a victory.
He surrendered an RBI single to David Lough in the first and a run-scoring double to Miguel Tejada in the fourth, but struck out Gordon with the bases loaded later in the fourth to escape further damage.
The left-hander allowed two runs on five hits and four walks while striking out seven in 6 2/3 innings. He now has a 2.79 ERA and .197 average against in his last five starts, four of which have been quality efforts.
Although Santiago did his job, it was the offense that once again failed to hold up its end of the bargain.
"This was more about we just couldn't push the ones across when we needed it," Ventura said.
Cash Kruth is a reporter for MLB.com. Follow him on Twitter at @cashkruth. This story was not subject to the approval of Major League Baseball or its clubs.