McKenry injures knee late in career game
McKenry injures knee late in career game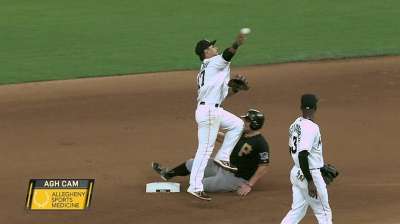 MIAMI -- Backup catcher Michael McKenry tweaked his left knee while sliding into second base in Saturday's 7-4 win against the Marlins. The Pirates will have to wait until Sunday to determine how McKenry feels.
"It's just kind of stuck," McKenry said. "Best way to put it."
The injury occurred on a Jordy Mercer forceout during the seventh inning. McKenry, who was starting in place of Russell Martin, remained in the game.
"I was just trying to take out the guy at second base," McKenry said. "He went back, so last-minute slide. Just hit it pretty good. It was my left knee."
Martin sat out Saturday's game after tweaking his left knee in a home-plate collision on Friday. McKenry finished with a career-high four hits and made a run-saving catch on a would-be wild pitch from Charlie Morton in fifth inning of the victory at Marlins Park.
Martin was already expected to start Sunday's game before McKenry's injury.