Giants stymied before Cubs' decisive homer
Giants stymied before Cubs' decisive homer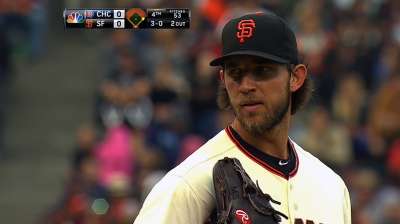 SAN FRANCISCO -- The Giants can't depend on much these days as their offense has little punch, the defense leads the Majors in errors and the pitching has been inconsistent. One of the few reliable players has been Madison Bumgarner, who delivered eight shutout innings Saturday but again received no run support as the Giants found a new way to lose in a 1-0 defeat to the Cubs.
Former Giant Nate Schierholtz -- traded in last July's Hunter Pence acquisition -- homered off Sergio Romo's sixth offering of the at-bat in the top of the ninth to give the San Francisco closer losses on consecutive days for the first time in his career.
"[We've had] a lot of mishaps, a lot of misfortune on our behalf," Romo said. "Tonight was another example of that."
Bumgarner had won three consecutive starts when taking the mound after a Giants loss, but instead he got a no-decision due to little fault of his own. In 15 innings pitched in his last two starts, he's allowed just one run but hasn't won. He was the victim of a lack of run support in his loss to the D-backs on Sunday, when he allowed just one run in seven innings.
San Francisco went 1-for-10 with runners in scoring position and left 10 on base. The Giants loaded the bases in both the eighth and the ninth and came away empty-handed.
"When you get the chances we had and don't deliver, you're probably going to get what we got," manager Bruce Bochy said.
San Francisco's offense couldn't break through after loading the bases with no outs in the eighth to lift Bumgarner to his 11th victory of the season. Gregor Blanco worked a leadoff walk, and then Cubs reliever Pedro Strop flubbed consecutive fielding plays. On Andres Torres' sacrifice bunt, Strop attempted to get the lead runner at second, but the throw was off target. Marco Scutaro then dropped a sacrifice bunt of his own. Strop fielded it, looked to third, realized he had no play and removed any chance of getting Scutaro at first with his hesitation, loading the bases.
Consecutive forceouts at home by Buster Posey and Pablo Sandoval brought Pence to the plate, but he swiftly struck out to end the threat. The next half-inning, Schierholtz's blast broke the scoreless tie.
"Those are the guys up there you hope to have up there," Bochy said. "Their guy was throwing hard and had a good breaking ball."
In the ninth, pinch-hitter Tony Abreu bounced into a 3-2-3 double play with the bases loaded to end the game in another frustrating performance in a season full of them.
"No, to be honest," Bochy replied when asked if there was anything positive outside of Bumgarner's performance. "What a great job Bum did. We're trying to figure out what happened with the chances we had."
The Giants committed two more errors Saturday night to climb ahead of the Astros for the most in the Majors with 76, but Bumgarner worked out of the jams to keep the Cubs from scoring. He has now pitched at least seven innings in each of his past eight starts.
"I felt really good today," Bumgarner said. "Everything seemed to be working pretty good. Buster caught a great game."
In his third start of the season, Cubs starter Chris Rusin baffled Giants hitters. He retired the first 13 batters in order before Pence walked with one out in the fifth. He continued the trend of the Giants struggling against left-handed starters, as they fell to 2-9 in their last 11 contests against southpaws.
"Rusin was phenomenal," Cubs manager Dale Sveum said. "He had his sinker working and got a bunch of ground balls and made the strikes when he had to. He did a heck of a job."
Pence led off the seventh with a double, but the Giants failed to bring him home. What may have turned into a triple bounced over the fence to hold Pence at second. With two outs, Brandon Belt ripped a line drive that first baseman Anthony Rizzo robbed of a go-ahead hit with a leaping grab.
"When you hit it there that hard, you think you have a shot at a triple, but [it was] an unfortunate bounce there," Pence said.
"We had excellent pitching, and it's extra tough when you pitch that good and aren't able to capitalize on it."
The Giants are now 11 games under .500 and nine games behind the first-place Dodgers in the National League West, both season worsts.
"We're being tested," Bochy said. "Why? I don't know, but we're really being tested."
Andrew Owens is an associate reporter for MLB.com. Follow him on Twitter @OwensAndrew. This story was not subject to the approval of Major League Baseball or its clubs.