Schierholtz's homer gives Cubs win in duel
Schierholtz's homer gives Cubs win in duel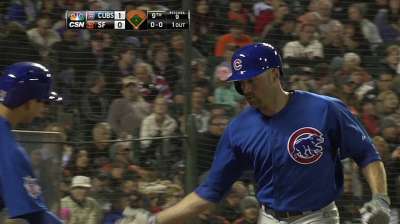 SAN FRANCISCO -- Chris Rusin won't forget Saturday's game. The Giants won't forget Nate Schierholtz.
Rusin threw seven scoreless innings and Schierholtz homered off his former teammate, Sergio Romo, with one out in the ninth inning to lift the Cubs to a 1-0 victory over the Giants and take a 2-0 lead in the series.
The Giants had tested the Cubs in the eighth, loading the bases with none out against Pedro Strop, who got Buster Posey and Pablo Sandoval to each hit into a fielder's choice, forcing runners at home, and then struck out Hunter Pence. The inning didn't begin well as Strop didn't handle two bunts cleanly.
"He was like Houdini out there -- I liked it," Rusin said.
"It started out as an ugly defensive inning and then turned out really good," Cubs manager Dale Sveum said. "That's what stuff does -- when you have stuff, you can strike guys out with guys on third and less than two outs. Posey gave him one heck of an at-bat. We were lucky to win that battle. That was our most exciting inning of the year."
Until the ninth. The Giants loaded the bases with one out against Kevin Gregg, who got pinch-hitter Tony Abreu to hit into a slick 3-2-3 double play.
"It was an exciting game," Schierholtz said. "It reminded me of playing here when we played one-run games every night. They're nail-biters."
The Cubs could've easily given up on the season when the front office started dealing players such as Matt Garza, Alfonso Soriano and Scott Feldman. Instead, they've been playing their best baseball of the season.
"We've got a lot of guys in here who don't give up," Schierholtz said. "One of the things they instilled in us in Spring Training is hard work and running balls out and not ever letting up. That's one of the biggest things a winning team does.
"You don't have to have the best players to win championships, and I learned that here. It's just been fun. We go out there loose with nothing to lose. It's a fun, young group of guys and we all get along great."
With one out in the Chicago ninth, Schierholtz launched a 3-2 pitch from Romo into the seats in right. The outfielder had played his entire career with the Giants until last year when he was sent to the Phillies at the Trade Deadline. He signed as a free agent with the Cubs with the promise of regular playing time, and delivered.
"It's obviously huge for him to do that against his old team," Sveum said.
"I can't really describe it, but it felt good," Schierholtz said. "It's great to get that win and it's good to come in here and get the first two."
It was only his seventh career home run at AT&T Park.
"This isn't a very good park to hit in," Schierholtz said. "I knew it had a chance but didn't know until it went out."
He's on a roll since the All-Star break, going 10-for-25 with three home runs, four doubles and nine RBIs. It's helped that he was able to give a sore shoulder some rest during the break. He feels right at home at AT&T Park.
"I always loved playing here; I loved the fans here," Schierholtz said. "I couldn't ask for a better reception. I've had a lot of people come up to me the last couple days saying they missed me here. It's something I really take to heart. I've had a lot of ups here and some downs, not playing a whole lot. It's just nice to know that people care."
It's amazing what Rusin can do when he doesn't have to think about last-minute packing or catching a flight or the uncertainty of whether he's going to pitch.
"I actually had regular rest; I was able to follow my regular routine," Rusin said. "It was a lot different than the last game because I was able to control all my pitches and I was able to control my two-seamer. I kept my defense on their toes and we came up with the win."
The Cubs starter held the Giants to three hits over seven scoreless innings in his longest big league outing, but did not get a decision.
"Rusin was phenomenal," Sveum said. "He had his sinker working and got a bunch of ground balls and made the strikes when he had to. He did a heck of a job."
In his two previous starts with the Cubs, Rusin was pitching on short notice. He was called up from Triple-A Iowa to make a spot start after Feldman was traded to the Orioles. Rusin went back to the Minors but returned after Garza was sent to the Rangers. The lefty missed a flight the night before and had to travel the same day he was starting. Plus, the Garza deal took time, and Rusin wasn't sure he'd even start.
"Each outing I feel more comfortable," Rusin said. "I'm not as nervous as I was."
On Saturday, the 26-year-old lefty retired the first 13 batters he faced before he walked Pence with one out in the fifth. One out later, Joaquin Arias singled up the middle for the Giants' first hit.
San Francisco had a runner at third with two outs in the seventh, but first baseman Anthony Rizzo robbed Brandon Belt of a potential extra-base hit and an RBI with a perfectly timed leaping catch to end the inning.
"That was big," Rusin said. "I was really pumped up after that. Right when it left the bat, I thought, 'Man, I left one up' and then Rizzo went up and got it."
"When things go good, you usually have those kind of breaks," Sveum said, "and if not, you usually miss things by an inch."
Carrie Muskat is a reporter for MLB.com. She writes a blog, Muskat Ramblings, and you can follow her on Twitter @CarrieMuskat. This story was not subject to the approval of Major League Baseball or its clubs.