McHugh struggles early as rain-soaked rally falls short
McHugh struggles early as rain-soaked rally falls short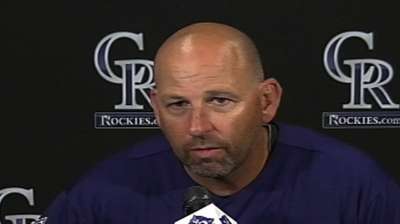 DENVER -- Desperate for a fifth arm that could piece together a serviceable outing, Colorado turned to Collin McHugh on Saturday night. But his Rockies debut did anything but provide them with a clear solution for their rotation, as they lost, 7-5, to the Brewers after a 105-minute rain delay in the ninth inning at Coors Field.
There were positives to pluck away, like the way the offense battled back from an early six-run deficit. But the loss also pushed the Rockies to a season-high six games back in the National League West and will prevent them from finishing a critical 10-game homestand -- one against three opponents at or near the cellar of their respective divisions -- better than 5-5.
McHugh's outing was far from what Walt Weiss and Co. had envisioned, with his final numbers similar to Drew Pomeranz, the man he replaced. After giving up six runs on eight hits in the first three innings, he survived until the fifth, allowing just one more hit with two total strikeouts.
"Tough start for him," Weiss said. "Feel like he got some sliders up that they hit pretty good.
"But you know what, thing I liked is that he put the zeros up in the fourth and fifth, and it was big for our bullpen. It kept us within striking distance, not having to blow up our bullpen."
For five innings, no Rockies runner made it past first base, with Brewers starter Tom Gorzelanny crushing any momentum from Colorado's eight-run effort on Friday night. But as a drizzle turned into a steady rain, the Rockies' offense came back with a four-run sixth, aided by Gorzelanny's slip ups on a wet mound.
Troy Tulowitzki singled home DJ LeMahieu after a leadoff double to finally energize a stagnant lineup. Michael Cuddyer walked to set the stage for Wilin Rosario, who belted a three-run homer over the left-field wall to cut the Brewers' lead to two. It was Rosario's 14th homer and first in a month.
"I was proud of the way they battled back," Weiss said. "Early on, it looked like one of those games that can get away from you, and we fought our way back and had a shot late."
It was also enough to close Gorzelanny's night. He fanned four and gave up four runs on six hits with one walk in 5 1/3 innings.
Gorzelanny said postgame that he regretted not getting the mound dried before Rosario stepped to the plate, slipping as he threw the slider that lifted Colorado back into the game.
Tulowitzki's solo homer in the eighth pulled the Rockies within two again after Brewers catcher Jonathan Lucroy's seventh-inning solo homer off reliever Adam Ottavino.
Ultimately, the offense could not compensate for McHugh's early struggles. They began with the game's first batter. Rickie Weeks smacked a double into left field and Jean Segura's RBI single quickly placed the Rockies in a one-run hole. Even a grounder from Lucroy turned into more trouble when it bounced off McHugh's lower leg and found a hole for a double.
"They swung the bat pretty well. They were pretty aggressive," McHugh said. "You just hate to put your team in a hole like that early on, because with guys struggling swinging the bat a little bit, you want to give them as much cushion as you can."
Carlos Gomez's sacrifice fly scored Segura before Caleb Gindl mashed a double into the right-center gap to hand Milwaukee a three-run advantage.
The Brewers kept going in the third, with Juan Francisco parking a McHugh fastball in the right-field seats with a runner on, putting the Rockies in a six-run hole. Milwaukee, which leads the Majors in stolen bases (94), torched the right-hander for five steals -- three by Gomez alone.
A steady rain turned into a downpour that left pools of water in the infield after the top of the ninth, forcing umpires to call a rain delay with half an inning to play.
"They had to pull [the tarp] there," said Jeff Bianchi, who replaced Segura, who left in the sixth after being hit by a ball while swinging in the fourth. "They had no choice, because it was kind of dangerous. It was raining basically all night, and then it started coming down harder when we were about to take the field that half inning. They did the right thing. It just stinks that we had to wait two hours to get three outs."
Closer Jim Henderson dispatched the bottom of the Rockies lineup in just nine minutes on two strikeouts and a pop fly, finally drawing the game to a close after nearly five hours.
Ian McCue is an associate reporter for MLB.com. This story was not subject to the approval of Major League Baseball or its clubs.