Pirates break out early, hold off Marlins
Pirates break out early, hold off Marlins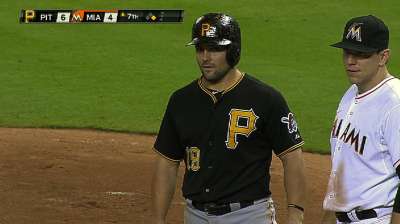 MIAMI -- After a Friday night devoid of offense, Pittsburgh's bats came out to play on Saturday night. Five Pirates enjoyed multi-hit games in a 7-4 win against Miami at Marlins Park.
After finishing 0-for-6 with runners in scoring position on Friday, Pittsburgh went for 6-for-17 in those scenarios in Saturday's victory.
"Hitting, in my opinion, is contagious," Neil Walker said. "It's one of those things where you see guys have good at-bats in front of you and are aggressive or seeing a lot of pitches, those type of things, they help on down the line."
The Bucs rocked Marlins starter Tom Koehler, hanging five runs and nine hits on the 27-year-old right-hander. The damage was done in the first and third innings.
Starling Marte led off the game with a broken-bat double down the left-field line, and Walker, who entered Saturday's game 2-for-his-last-22, promptly brought Marte home on another double down the left-field line.
"Putting their starter on the ropes, getting his pitch count up, that was big," Walker said. "The middle innings got a little hairy there, but we always feel like when we get a lead for this team and we're getting into the fifth, sixth and seventh inning, that we've got a pretty good chance of closing it down."
Marte and Walker paced the Pittsburgh offense from start to finish with a combined line of 5-for-10 with three doubles, four runs scored and two RBIs.
Two batters later, Garrett Jones provided some two-out magic with a bloop double to left field that plated Walker from third. Michael McKenry, who notched a career-high four hits, followed with a single to left, capping Pittsburgh's three-run first.
The Pirates also started quickly in the third with back-to-back singles from Walker and Andrew McCutchen. After Pedro Alvarez grounded into a forceout to put runners on the corners, Jones and McKenry again came through for Pittsburgh.
The duo notched back-to-back RBI hits to up the Bucs' run total to five.
Walker's strong night is a welcome sign for the Pirates, who hope the second baseman can return to his normal productive level of play now that he's healthy.
"We've seen him do it," Hurdle said. "He can get hot, and he can do a lot of different things. [Saturday] was a real good look at it. Obviously, his confidence I think will pick up from there as well."
Five runs were just enough for Charlie Morton, who gave up four runs (three earned) on nine hits in five innings. Morton walked none and fanned a season-high-tying six.
Although Morton earned the win, both Hurdle described the right-hander's pitches as "come and go," citing the inconsistency of Morton's sinker. Still, Hurdle was pleased with the 29-year-old's effort.
"He gave us everything he had to get through five, and we had the lead," Hurdle said. "So, from that point, him battling and getting through it was good to see."
"I don't think I had very good command," Morton said. "There were some pitches I'd love to have back in terms of command and execution, things like that. Stuff was average, but they picked me up."
The defense behind Morton proved hit-and-miss in Saturday night's contest, committing both key blunders and great plays. Two miscues in the bottom of the third helped Miami pull within one run of the lead.
Christian Yelich reached base with a one-out single and advanced to second when the ball skipped off McCutchen's glove in center. When Giancarlo Stanton followed with a double, Yelich scored easily from second.
Logan Morrison plated another run in the next at-bat with an RBI single to left and advanced to second on an errant throw home from Marte. After moving up to third on a Donovan Solano flyout, Morrison trotted home on a Placido Polanco single.
"We didn't help [Morton] defensively in the one inning," Hurdle said. "We could have done some better work with the ball and catching it and throwing it."
But McKenry, filling in for regular catcher Russell Martin, made a run-saving play in the fifth to preserve Pittsburgh's then-one-run lead.
With two outs and Morrison and Stanton on second and third, Morton fired an 0-2 two-seamer that went behind Polanco. McKenry reacted quickly and snagged the would-be wild pitch. Polanco struck out swinging two pitches later.
"That's the second time he's caught a ball thrown behind a hitter this year," Hurdle said. "I don't know how you do that. You don't practice it. That's the second time he's done it, and none bigger situation than that for him to glove it."
Said McKenry: "I take a lot of pride and not letting balls get by me. It's another way to keep somebody from getting a free 90 [feet], especially when they're at third base. ... I think it was a funny sequence, because I'm sure Polanco felt really uncomfortable after that. He ended striking out, so that was good."
Once Morton left the game, Pittsburgh added an insurance run in the seventh started by none other than Marte and Walker. Marte led off with a single up the middle and scored on Walker's second double of the night to put the Bucs up, 6-4.
The Pirates plated another run in the eighth when McCutchen legged out a two-out triple and scored on a single from Alvarez.
Said Walker: "Adding a couple of runs late really helped."
Miami threatened down by two in the seventh when Stanton walked and Morrison singled against Justin Wilson, who pitched 1 2/3 innings of scoreless relief.
However, Bryan Morris came in and ended the threat, getting Solano to ground into a forceout.
Mark Melancon, filling in for injured All-Star closer Jason Grilli, shut down the Fish in the ninth for his fourth save.
"We turned it over to the bullpen, and they were very, very good," Hurdle said.
Joe Morgan is an associate reporter for MLB.com. This story was not subject to the approval of Major League Baseball or its clubs.