Vogelsong feels great in second rehab start
Vogelsong feels great in second rehab start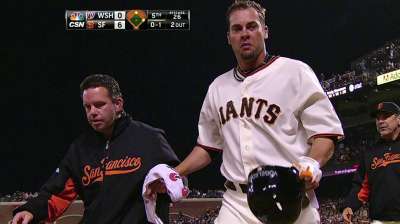 SAN FRANCISCO -- Injured Giants starter Ryan Vogelsong completed his second rehab appearance Friday night with Class A San Jose. In 2 2/3 innings, the only hit he allowed was a two-run home run.
Vogelsong threw 45 pitches after throwing 34 in his first outing with the Giants' Arizona League club Tuesday.
"He felt great," manager Bruce Bochy said. "He really felt good about adjusting. He said in the [pregame] bullpen he was a little uncomfortable getting balls where he wanted, but he adjusted."
Vogelsong will travel to the White House on Monday before joining the Giants' Double-A affiliate in nearby Richmond, Va. Bochy said Vogelsong's rehab is coming along according to plan, which suggests the original target date of Aug. 9 is still a possibility.
"His arm feels great," Bochy said.
Andrew Owens is an associate reporter for MLB.com. Follow him on Twitter @OwensAndrew. This story was not subject to the approval of Major League Baseball or its clubs.