Tribe blanks Rangers as Masterson outduels Yu
Tribe blanks Rangers as Masterson outduels Yu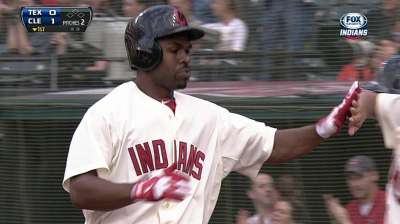 CLEVELAND -- If this was the only mistake Yu Darvish was going to make on Saturday night, Indians center fielder Michael Bourn did not want it to go to waste. Two pitches into the Texas ace's outing, Bourn pulled a cutter over the right-field wall for a leadoff home run.
Just like that, Indians sinkerballer Justin Masterson had all the support he'd require.
In a matchup that lived up to its billing, Masterson outdueled Darvish to guide the Indians to a 1-0 victory at Progressive Field. Darvish put his power approach on full display, holding Cleveland down following Bourn's opening shot, but Masterson countered with his signature mix of groundouts and strikeouts to pave the way for the shutout.
"Wow," Indians manager Terry Francona marveled. "That was impressive on both sides."
As has been the case for much of this season, though, Masterson elevated his game when the Indians needed such heroics.
The big right-hander gave Cleveland a complete game in a doubleheader against the Yankees on May 13. He ended a five-game losing streak with a gem against the Reds on May 29. Masterson spun one of his three shutouts in opposition of White Sox lefty Chris Sale on June 30. This pairing with Darvish was only the latest in a line of impressive performances this year for the All-Star.
"He's taken that title of an ace and ran with it," Indians setup man Joe Smith said. "He wants it. He wants to be in that position. That's awesome to have a guy that wants it like that."
The win gave Cleveland a series victory over Texas with a chance for a sweep on Sunday.
It also marked the 13th shutout of the season for the Indians, who are tied with the Rays and Pirates for the Major League lead in that category. Masterson has been on the hill for six of those blankings, which include a trio of 1-0 victories. Cleveland's four 1-0 wins this season are already the most in one campaign since the club had seven such victories in 1989.
Masterson (12-7) said it is imperative to ignore the score in those tightly contested games.
"You just go out there," Masterson said, "and you can't worry about what's happened, or what's happening, or what's going on on that side. You have to control what you can, which for me is trying to get ground balls, keeping the ball low in the zone, keeping guys off-balance.
"In the end, hopefully that works out in my favor."
The Indians (55-48) struggled to solve Darvish (9-5), but the club did what it could to drive his pitch count up to force him from the contest. That goal was accomplished after the right-hander sliced his way through Cleveland's lineup for six innings, sidestepping the potential harm of the four walks issued and most of the three hits he scattered.
Of course, one of those hits proved damaging enough.
In the first inning, Bourn yanked a 1-0 cut fastball from Darvish into the right-field seats for the seventh leadoff home run of his career. Following that blast -- the fourth of the season for Bourn -- Darvish locked in and shut the Tribe down, piling up 11 strikeouts in his 123-pitch effort for Texas (56-48).
"I believe the hype," said Bourn, who had not faced Darvish before Saturday. "I know how tough he is. Pitchers like that, you don't want them to get ahead or too deep in the count. As you can see, he held us to one run. But, it was able to hold up for the rest of the game. It was good enough to win."
That is because Masterson did Darvish one better by keeping Texas off the board completely.
The Rangers' biggest threat came in the fifth inning, when they loaded the bases against Masterson with two outs. That set the stage for slugger Nelson Cruz, who chopped a pitch into the ground for an inning-ending fielder's choice. Masterson used his heavy sinker to create 12 outs courtesy of ground balls.
"He was too much," Rangers third baseman Adrian Beltre said. "Obviously our offense has been inconsistent. The pitching staff has been great, but we're not getting enough runs. Tonight we faced a guy that was throwing strikes and his ball was moving good. He was too much."
Masterson's sinker was typically strong, but his slider was virtually unhittable.
Texas went a combined 0-for-8 with five strikeouts and two groundouts in at-bats that ended with Masterson's slider. Told that catcher Carlos Santana described the slider as being "perfect," Masterson let out a laugh.
"He's too kind," Masterson said with a grin. "He likes to use the word 'perfect' a little too often. It was good. It was good to mix in."
In the eighth inning, Masterson faced Cruz again with two outs, having amassed eight strikeouts against just one walk in his 7 2/3 innings. Cruz sent Masterson's 113th pitch into center field for a single. That prompted Francona to spring from the dugout, eliciting a roar from a home crowd clearly wanting to see Masterson finish what he started.
Francona instead summoned setup man Joe Smith from the bullpen, sending Masterson strolling to the dugout amidst a rousing standing ovation from the Cleveland faithful.
"Masty was throwing the ball so well," Smith said. "It was one of those games where you almost don't want to get in there. You just want to see him do his thing."
Asked if he could have stayed in the game, Masterson quipped that he "had 380 more pitches" in him.
As it happened, Smith -- after allowing two runs in a blown save against Texas on Friday -- forced Beltre to fly out to the warning track in left field to escape the inning. Indians closer Chris Perez then did the rest, holding the Rangers in check in the ninth en route to his 14th save.
Francona was not able to relax until the game's final pitch.
"You're nervous as all heck," he said of managing such a close game. "But when you've got two pitchers pitching like that, that's a lot of fun to be a part of."
Jordan Bastian is a reporter for MLB.com. Read his blog, Major League Bastian, and follow him on Twitter @MLBastian. This story was not subject to the approval of Major League Baseball or its clubs.