Leadoff homer sinks Yu as Rangers blanked by Tribe
Leadoff homer sinks Yu as Rangers blanked by Tribe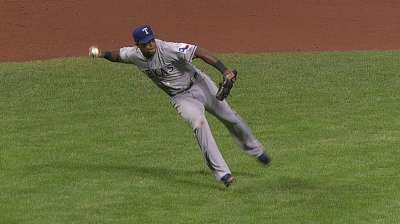 CLEVELAND -- Indians outfielder Michael Bourn was asked if he had ever done this before during his career as one of the top leadoff hitters in the big leagues.
"Never," Bourn said. "It's never happened."
It has now, as the Rangers explore new ways to add to their growing offensive frustrations. Bourn lifted the second pitch thrown by Yu Darvish for a leadoff home run and that turned out to be the only run of the game.
The Rangers managed just five singles off Indians starter Justin Masterson and went quietly in a 1-0 loss on Saturday night at Progressive Field. The Rangers have lost seven of nine games since the All-Star break and are five games behind the Athletics in the American League West. They have also lost 11 of their last 14 games.
"We're not getting it done," outfielder Nelson Cruz said. "It's simple. I can't say it's frustrating, but it's disappointing. We should be better."
The biggest problem, manager Ron Washington continues to preach, is the Rangers' inability to get a big hit with runners in scoring position. They are hitting .236 in those situations in July and .241 for the season. They were 1-for-4 on Saturday night.
"If we could have delivered a base hit at the right time tonight, it could have been a different situation," Washington said. "Our issue has been getting base hits with runners in scoring position. If we do that, we'll be fine. As well as Masterson pitched, we still had situations where one hit could have made a big difference. It's not like we're being dominated. We're getting runners out there, we're just not getting them in."
The lack of offense has hurt Darvish as much as anything. He was 7-1 with a 2.97 ERA in his first nine starts because the Rangers were scoring 9.05 runs per nine innings for him. He is 2-4 with a 2.66 ERA in his last 11 starts because his run support has dropped to 2.53 per nine innings. The Rangers won eight of his first nine starts and just three of his last 11.
"It's part of the game," Darvish said. "There are games where the pitchers are not performing at their best and there are games where the hitters are not performing at their best. We always try to prepare ourselves to perform at our best, but it didn't come through for the hitters tonight."
Darvish wasn't completely happy with his own work on Saturday night. He allowed just three hits, but he walked four and struck out 11, which drove his pitch count up to 123 over six innings.
"What frustrated me was my performance," Darvish said. "I couldn't get in my rhythm. With two strikes, I threw a lot of balls and got my pitch count up. That must have been frustrating for the position players, because I couldn't get in my rhythm tonight."
Bourn led off the game by taking a cut fastball for a ball. Darvish threw one more cut fastball and Bourn hit it over the right-field fence for a home run. It was his fourth homer of the season and the 26th of his career in 3,320 Major League at-bats. It was also the first time he had ever faced Darvish.
"I heard a lot about him," Bourn said. "I believe the hype."
Masterson was 0-4 with a 7.54 ERA in four career starts against the Rangers before holding them scoreless through 7 2/3 innings. He walked one and struck out eight before turning it over to the bullpen.
"Wow, that was impressive on both sides," Indians manager Terry Francona said. "Thankfully for us, Bourny kind of ambushed him there and jumped him, because that was impressive. [Darvish] ... he's just got so many ways to get you out. Fortunately, like I said, Bourny got the hit, and Masty competed his rear end off, because that's a tough game to win."
The Rangers' best chance against Masterson came in the fifth when they got their only hit with runners in scoring position. Geovany Soto singled with one out and, after Leonys Martin popped out, Ian Kinsler was hit by a pitch.
Engel Beltre then lined a hard single to right but right at outfielder Drew Stubbs, who was playing shallow. Soto had no choice but to stop at third. Cruz then grounded one to shortstop to end the inning.
"They're playing shallow and it was a line drive all the way," Washington said. "We would have been able to score if it was hit to the left or the right, but it was right at him."
Masterson then retired eight straight hitters before Cruz singled with two outs in the eighth. Joe Smith took over and retired Adrian Beltre on a fly to left to end the inning. Cruz's single was the Rangers' only hit in the last four innings.
"[Masterson] was too much," Adrian Beltre said. "Obviously our offense has been inconsistent. The pitching staff has been great, but we're not getting enough runs. Tonight we faced a guy that was throwing strikes and his ball was moving good. He was too much. We didn't get it done."
T.R. Sullivan is a reporter for MLB.com. Read his blog, Postcards from Elysian Fields, and follow him on Twitter @Sullivan_Ranger. This story was not subject to the approval of Major League Baseball or its clubs.