Minus Bruce's homer, Reds silenced by Dodgers' Ryu
Minus Bruce's homer, Reds silenced by Dodgers' Ryu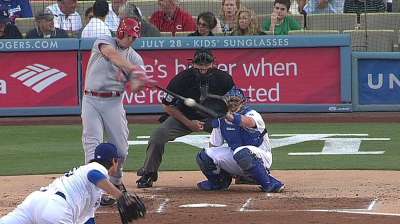 LOS ANGELES -- Bronson Arroyo had not only been on a roll of late, but had been a stopper of sorts for the Reds all season. Entering Saturday night, the Reds were unbeaten in Arroyo's starts following a loss.
That success came to end during a 4-1 loss to the Dodgers and a sterling performance by South Korean lefty Hyun-Jin Ryu. Arroyo gave up three runs and eight hits with two walks and one strikeout in 5 1/3 innings. The Reds had been 9-0 and Arroyo 6-0 in his starts following a Cincinnati loss.
"It was battle just from warming up in the bullpen, to be honest with you," Arroyo said. "I didn't have much of a breaking ball, which I haven't had a few times the last month and a half. I had a decent fastball, but it was off just a tick in command. I was behind a lot in counts."
There was an electric sellout crowd of 52,675 fans that included many South Koreans -- and pop star Psy -- out to see both Ryu and Reds center fielder Shin-Soo Choo. Although Ryu gave up a leadoff walk to Choo in the first inning and Jay Bruce's home run in the second, he otherwise buried a Cincinnati lineup that notched only two hits.
"I was definitely more nervous than a usual game," Ryu said through a translator. "It was my first time facing Choo and I can't deny that it was on my mind."
Ryu struck out nine over his seven innings.
"No matter how Bronson looked, we didn't score any runs other than Jay's home run and managed only two hits," Reds manager Dusty Baker said.
Arroyo, who entered with a 1.61 ERA and two complete games over his last four starts, labored through the bottom of the first inning. After Yasiel Puig walked, he was aggressive on the bases and took second base on Adrian Gonzalez's flyout to right field. After Puig stole third, he scored on Hanley Ramirez's RBI double to right-center field.
Leading off the top of the second, Bruce evened the game by hitting Ryu's 2-0 pitch to right field for his 22nd home run of the season. Ryu was untouchable from there and retired 18 of the next 19 batters, including his final 13 in a row. The lone exception was Chris Heisey's two-out triple in the third.
"He used all of his pitches and really after the first time through the lineup, he didn't use his fastball at all against left-handers, anyway," Bruce said. "He did a good job and kept us off-balance. It was the first time we had seen him. It's one of those things. He's had a nice season and he pitched well tonight."
Arroyo had retired eight of nine batters heading into the fifth when Mark Ellis led off with a single to center and moved to second base on Ryu's sacrifice bunt. On a 1-0 pitch, Skip Schumaker tattooed a two-run homer over the center-field fence to snap the 1-1 tie.
Entering the night, Schumaker was hitting .375 (18-for-48) lifetime against Arroyo, but had no homers.
"It was just a fastball down the middle," said Arroyo, who is 9-8 with a 3.26 ERA this season. "Skip has battled me hard as a lot of the guys in the Cardinals' lineup have over the years. We just went down and away with a hard pitch. I thought he would be trying to pull the ball with a guy on second base. He stayed right through it and hit the ball out to dead center. I really didn't think Skip had that kind of pop in him, but he did today."
Puig followed Schumaker with a single to right, but his high-octane style burned him on the bases this time. Puig rounded too far off the bag and Bruce fired a throw to catcher Devin Mesoraco, who covered first base and tagged Puig out.
"It was a great play," Arroyo said. "It was nice to get him out, because that was a point in the game where things were starting to roll their way. Him being back there was really heads-up."
Arroyo was lifted after 94 pitches after an A.J. Ellis one-out single in the sixth.
"I was fortunate, honestly, to get out of there with just the three runs," Arroyo said. "I know Dusty could feel it and [pitching coach Bryan] Price could feel it, too, so they went to [Alfredo] Simon early to try and lock it down and make sure it wasn't a 5-1 lead. We knew there probably wouldn't be an opportunity to score many runs."
Simon got out of the inning cleanly, but gave up a Schumaker one-out double to left and Gonzalez's two-out RBI single to center for an insurance run in the seventh.
Cincinnati dropped to 4-3 on its 11-game West Coast road trip and will need a victory on Sunday to split the four-game series.
For the second night in a row, the Reds did not take advantage of a Cardinals loss to the Braves. They remain in third place and five games back in the National League Central.
Mark Sheldon is a reporter for MLB.com. Read his blog, Mark My Word, and follow him on Twitter @m_sheldon. This story was not subject to the approval of Major League Baseball or its clubs.