Uehara dominant in first month as Red Sox's closer
Uehara dominant in first month as Red Sox's closer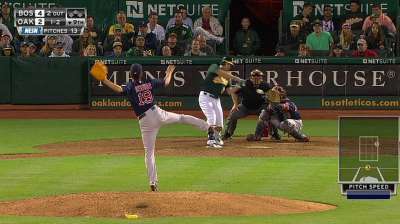 BALTIMORE -- Friday marked the one-month anniversary of when Koji Uehara closed his first game for the Red Sox. And all you have to do is look at the numbers to see that manager John Farrell picked the right guy to take over in the ninth inning.
In his first 15 games as the closer, Uehara has a 0.59 ERA while converting eight of 10 save opportunities. Opponents are hitting .115 against him during that span. Over 15 1/3 innings, he has walked one while striking out 23.
Uehara is the classic case of a closer dominating with location rather than velocity.
"There's probably a long list of successful closers that have been like him," said Farrell. "They might not be so prominent right now. You can go back to Bruce Sutter. You can go back to Doug Jones. [Trevor] Hoffman."
Keith Foulke, who led the Red Sox to World Series glory in 2004, is another former closer who fits that mold.
"There's some long history with guys that have been very successful with an out pitch, and the out pitch doesn't have to be mid-90s," Farrell said.
Because of game situations, Uehara had pitched just once in the last five days entering Saturday's action.
However, his durability this season has been a very pleasant surprise to Farrell.
"Through the pretty evenly spaced out work that he's had to date, it's kept him in very good pitching shape. He's felt as fresh and as strong now as he did for the start of the season," Farrell said. "What marvels you is his overall efficiency. I don't have the number of pitches thrown by guys with equal appearances, but I venture to say, he's probably thrown less."
Ian Browne is a reporter for MLB.com. Read his blog, Brownie Points, and follow him on Twitter @IanMBrowne. This story was not subject to the approval of Major League Baseball or its clubs.