Molitor to Braun: 'Transparency is important'
Molitor to Braun: 'Transparency is important'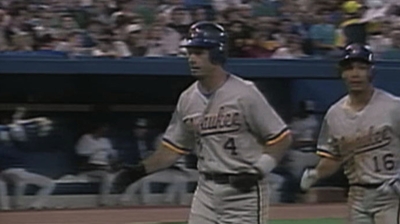 DENVER -- Former Brewers star Paul Molitor, who battled a cocaine addiction early in his Hall of Fame career, offered some advice to suspended slugger Ryan Braun on Saturday: Tell the whole truth.
"For me personally, it brings back times when I had my own troubles, how difficult it was, the embarrassment, the remorse," Molitor said Friday on 620 WTMJ-AM, the Brewers' flagship radio station. "I know it's tough. As far as the fans are concerned, Milwaukee fans feel a personal connection with their players. If you're playing for us, you're one of us. There's a lot of disappointment.
"Anytime you get busted, if you will, if your weaknesses become public, you have a tendency to only acknowledge things as they come out, instead of trying to get out infront of it. In hindsight, from the beginning, I wish I had been more honest about some of the problems I had with recreational drugs."
Braun's situation is different, as he's suspended for the Brewers' final 65 games for violations of Major League Baseball's Joint Drug Prevention and Treatment program. Neither Braun nor the MLB disclosed his violations, but they are related to the league's investigation into the Miami-area anti-aging clinic Biogenesis.
Molitor was never suspended for his drug use, which included cocaine and marijuana, but it was reported by Milwaukee media outlets in the mid-1980s. Molitor kicked his addictions and has spoken out in the years since about the dangers of recreational drugs.
He compared his experience to the long road ahead for Braun.
"I think transparency is important," Molitor said. "I don't think it's something you can run and hide from. It will be good for the healing in the long run. If somehow, some way, Ryan makes his way back into the game and people begin to give him a second chance, that he'd be compelled to be one of those guys to educate young people."
Adam McCalvy is a reporter for MLB.com. Read his blog, Brew Beat, and follow him on Twitter at @AdamMcCalvy. This story was not subject to the approval of Major League Baseball or its clubs.