Black looking for more innings from his starters
Black looking for more innings from his starters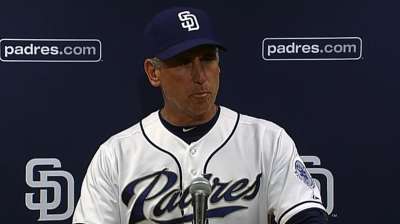 PHOENIX -- It's no small wonder the Padres head toward Wednesday's non-waiver Trade Deadline with the hopes of adding a starting pitcher -- not just for the rest of the season, but moving into next year.
If there's been anything that's held the Padres back this season, it's been their starting pitching.
The Padres have been besieged by a number of short outings by starting pitchers this season. All told, 22 percent of their starts this season have been 4 2/3 or fewer innings. A year ago, it was 18.5 percent.
"It would be nice to get some extended work from our starters," said Padres manager Bud Black before Saturday's game against the D-backs.
"The importance of a rotation pitching deep is very critical to the long-term success of a team. You need it. There's close to 1,500 innings pitched during a year and you'd like your starting pitchers to amass 1,000 or them or more. When that doesn't happen, the bullpen takes on a lot of work."
The Padres are on pace to have just two pitchers make 30 or more starts this season -- Edinson Volquez and Eric Stults. This would be the third consecutive season Black has had just two starters hit that mark.
"That's not the ideal. The ideal is when you start the regular season, you have a group of starters in place," Black said. "Those are the guys you want to start 30-plus games."
The Padres have lost two pitchers to injuries thus far, Jason Marquis (22 starts) and Clayton Richard (11 starts), which hasn't helped their ability to work deep in games.
Corey Brock is a reporter for MLB.com. Keep track of @FollowThePadres on Twitter. This story was not subject to the approval of Major League Baseball or its clubs.