Ross hopes to reach next level by improving changeup
Ross hopes to reach next level by improving changeup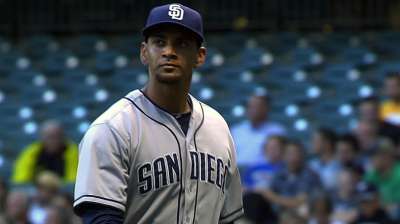 PHOENIX -- There was a lot to like about Tyson Ross' last start against the Brewers, when he won his first game with the Padres, allowing one run over six innings.
He'd like for his next start, which comes Sunday against the D-backs, to be even better.
To get there, the Padres would like to see Ross utilize his changeup more than he did in Milwaukee on July 23, when he only used it a handful of times, occasionally to great success.
"First and foremost, I have to continue throwing it in games and not shy away from it. As soon as I see that sign put down, I have to be committed to it," Ross said.
The Padres don't just want Ross to use the changeup more, but to take some heat off it, decreasing the velocity on it to create a greater differential between his fastball and the pitch.
The trick to doing so, of course, is keeping the arm speed the same so hitters don't get tipped off that the changeup is coming.
"Once I get a better feel for throwing it in game situations, it will be better," Ross said. "You can baby things in the bullpen a little, but if you do that in the game, the hitters are going to recognize that arm speed differential. I think the key to the deception is the arm speed, making it look like a fastball."
Ross began the season as the No. 5 starter in the rotation and made three starts. But he was sidelined with a subluxation of his left (non-throwing) shoulder swinging a bat in a game on April 17. Ross has now returned to the starting rotation after a short stint with Triple-A Tucson to build his endurance.
Ross threw 82 pitches to cover six innings in that start against the Brewers. Black believes he can push beyond 90 pitches on Sunday.
Corey Brock is a reporter for MLB.com. Keep track of @FollowThePadres on Twitter. This story was not subject to the approval of Major League Baseball or its clubs.