Padres power past Skaggs, D-backs to even series
Padres power past Skaggs, D-backs to even series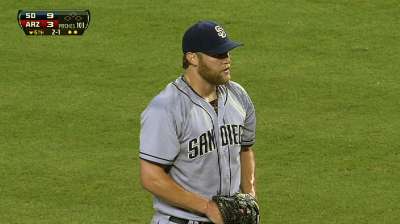 PHOENIX -- The silent treatment awaited Padres pitcher Andrew Cashner as he returned to the visiting dugout at Chase Field on Saturday night, a prank by teammates after he hit his first Major League home run.
"First home run ... that's what he gets," said Padres first baseman Yonder Alonso.
It was hardly a quiet night for the Padres' offense, though, as the team hit three home runs, scoring in bunches early, during a 12-3 victory over the D-backs before a crowd of 30,033.
The Padres, taking advantage of command issues by D-backs starting pitcher Tyler Skaggs early, scored eight runs in the first four innings, with Chris Denorfia and Chase Headley connecting for back-to-back home runs and Alonso chipping in with a key three-run double in the third inning.
"I thought we had good at-bats throughout the game," said Padres manager Bud Black. "We knew that Skaggs could be a variable with his control. In that third and fourth innings, he did a good job of laying off some borderline pitches."
Just consider this another unusual performance -- and not just because of Cashner's home run -- for the offense in the past week.
To wit:
• On Wednesday in Milwaukee, Brewers starting pitcher Kyle Lohse allowed one run on five hits in seven innings in a 3-1 victory over the Padres.
• The next day, the Padres had 16 hits, including home runs by Carlos Quentin and Jesus Guzman, on their way to a 10-8 victory over the Brewers.
• Finally, on Friday, D-backs rookie pitcher Randall Delgado scatters three hits over nine scoreless innings in a 10-0 victory over the Padres.
By sheer volume, the Padres didn't do big damage Saturday, as they had just five hits through the first seven innings before breaking the game open late. But nearly every one of their hits early in the game rated as momentous.
The double by Alonso followed a bases-loaded walk by Skaggs to Jesus Guzman, which allowed a run to score. That brought up Alonso, a left-handed batter facing the left-handed Skaggs. Skaggs got ahead in the count with two quick strikes and then hung a curveball that Alonso hit down the right-field line.
"For me [facing a lefty], it's trying to stay on the breaking ball as much as I can," Alonso said.
Skaggs allowed seven runs on three hits with five walks and five strikeouts in 3 2/3 innings.
"If you throw strikes and get ahead, good things happen. But if you fall behind, as a catcher, where are you going to go? You have nowhere to go," said D-backs catcher Miguel Montero. "[Skaggs] couldn't spot anything. [Seven] runs on [three] hits, that pretty much tells you."
The Padres piled on late, scoring three runs in the top of the ninth inning. That was more than enough to make sure Cashner got credit for his seventh victory of the season -- even if he felt more like talking about his home run than his pitching on this particular night.
"That was pretty cool," said Cashner, who hit his last home run in high school. "I've been dreaming of that my whole life."
Cashner allowed an opposite-field home run to Montero in the second inning followed by a two-run home run to Paul Goldschmidt in the fifth inning. But he didn't allow much more.
"Tonight, I walked a lot of guys," he said. "I think I did a bad job of getting ahead of guys."
Cashner saw the Padres turn two big double plays behind him early in the game -- in the first inning and the fourth inning -- to help keep his pitch count down. He allowed three runs on four hits in six innings with five walks and five strikeouts.
"I think the big inning for me was after we scored those runs [in the third inning] and I came out and shut them down," Cashner said. "You don't want to let them back in it there."
Black, who has said before that's he's often too critical of his pitchers, saw some things he liked Saturday and some things he didn't.
"Cash will probably talk more about the home run ... he wasn't at the top of his game, and I don't mean that negatively," Black said. "But he can pitch better."
The Padres finished the game with nine hits, but also had eight walks. Carlos Quentin raised his average to .278 with two hits. Alonso had three hits and knocked in four runs.
Corey Brock is a reporter for MLB.com. Keep track of @FollowThePadres on Twitter. This story was not subject to the approval of Major League Baseball or its clubs.