Guthrie getting major boost from KC bullpen
Guthrie getting major boost from KC bullpen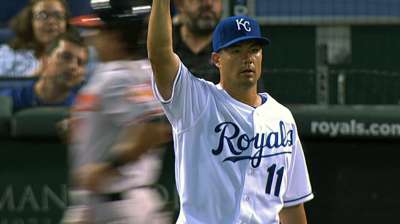 CHICAGO -- Royals pitcher Jeremy Guthrie has gotten lots of good help from the bullpen this season.
According to Elias, Royals relievers have a combined 1.40 ERA in games started by Guthrie this season -- best in the Majors for pitchers with at least 10 starts.
In his latest outing on Thursday against Baltimore, the bullpen notched three scoreless innings in a 7-1 victory.
Dick Kaegel is a reporter for MLB.com. This story was not subject to the approval of Major League Baseball or its clubs.