Rangers might not add bat before Trade Deadline
Rangers might not add bat before Trade Deadline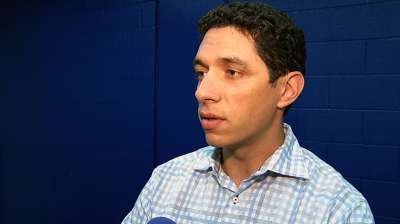 CLEVELAND -- The Rangers, with just four days left before the non-waiver Trade Deadline, have been linked to every available outfielder from Alex Rios of the White Sox to Hunter Pence of the Giants. They have been linked with outfielders who aren't available, including Jose Bautista of the Blue Jays and Giancarlo Stanton of the Marlins, and to some who they aren't even interested in right now.
But the Rangers are considering another option. They may not do anything.
The Rangers entered Saturday's game with the Indians having lost six of eight since the All-Star break. They were 4 1/2 games behind the Athletics in the American League West and 1 1/2 games behind the Orioles for the second Wild Card spot.
Their offense has been identified as their biggest need. They would like a right-handed-hitting outfielder, and they may also need help at designated hitter if Lance Berkman isn't able to return from his hip and knee injuries. He is currently working out in Arlington and his return is still uncertain. The Rangers have Manny Ramirez at Triple-A, but he is not considered an option right now.
The Rangers, having committed at least four Minor League prospects to the Cubs for pitcher Matt Garza, aren't keen on giving up more young players for a hitter who only has a marginal chance of helping their ailing offense. In other words, Rios or Pence aren't going to fix what's wrong with the Rangers, and the problem would become only deeper if Nelson Cruz is suspended for an extended period of time for his alleged involvement with Biogenesis.
The Rangers have spoken to the White Sox about Rios, but the price is too high right now. The same goes with Mets outfielder Marlon Byrd. They have interest in Kendrys Morales, but the Mariners aren't in a trading mode right now. The Giants are undecided in the same way regarding Pence.
The Rangers are not planning to bring back Michael Young. Major League sources said a trade for Young between the Phillies and the Rangers is not going to happen.
If the Rangers can get turned around, they could revisit these trade discussions in August. Players need to clear waivers before they can be traded after Wednesday's Deadline. But there is a good chance that at least some of the players being talked about will clear waivers or be in position to be claimed by the Rangers.
The Rangers have not ended discussions with other teams, they just appear to be having second thoughts about the value of making a trade right now with the way the team is going.
T.R. Sullivan is a reporter for MLB.com. Read his blog, Postcards from Elysian Fields, and follow him on Twitter @Sullivan_Ranger. This story was not subject to the approval of Major League Baseball or its clubs.