Mariners' bats fall silent against Deduno
Mariners' bats fall silent against Deduno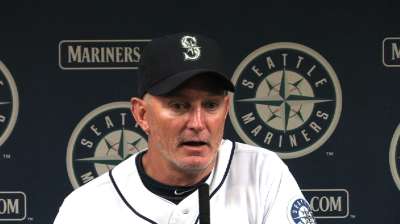 SEATTLE -- Just as the Mariners' offense was finally starting to round into form, Minnesota held Seattle's bats down for the second straight game. The Mariners, who entered Saturday's game scoring a league-leading 5.67 runs a game in July, mustered just six hits in a 4-0 loss to the Twins in front of 24,524 fans.
The Mariners (49-55) have scored just one run in their last 17 innings against the Twins, after winning the series opener, 8-2. Samuel Deduno took the mound for the Twins on Saturday, allowing just three hits over seven scoreless innings with six strikeouts. Deduno also pitched seven scoreless innings against Seattle last Aug. 29, allowing just two hits while compiling a career-high nine strikeouts.
"He's got real life on his ball: it cuts; he sinks it; he's got a plus changeup that's very good," bench coach and acting manager Robby Thompson said. "I'm not quite sure sometimes whether he's trying to sink it or cut it, but it definitely has movement on it. He's effectively wild, basically."
Aaron Harang pitched a solid if inefficient game for Seattle, allowing just one run on three hits. But the starter ran up his pitch count, and he had to leave the game having thrown 107 pitches in just five innings.
"I mean I felt really good; I felt like I was making some good pitches, but it definitely was a battle," Harang said. "A lot of foul balls, and then a lot of close pitches they were taking, which was getting me deeper in counts."
With Harang gone, Minnesota (45-56) took advantage of a Seattle bullpen that combined to walk six batters over the final four frames.
Humberto Quintero made his first start at catcher for the Mariners, having signed on Friday to provide depth at the position with the news that Mike Zunino would be out approximately six weeks with a broken bone in his left wrist. Quintero went 0-for-2 in his Seattle debut, with Michael Saunders pinch-hitting for him in the eighth inning. The Mariners have sorely missed Zunino's bat the past two games -- the rookie hit .346 over his past nine games leading up to the injury.
"First look at him, it's hard to really evaluate," Thompson said. "It's his first day here in front of all of us and his first start for us obviously, and we'll just keep moving forward and mix and match him and Henry [Blanco]."
The Twins opened Saturday's scoring in the fourth. Justin Morneau led the inning off with a double, and he advanced to third on an error by right fielder Endy Chavez.
Chris Colabello -- who hit the winning home run in Friday's 13-inning, 3-1 loss -- had hit a fly ball to right field, but second baseman Nick Franklin tried unsuccessfully to make the play. Morneau, who had planned on tagging up, dashed to third. Chavez's throw sailed past third baseman Kyle Seager, and Colabello took second on the throw.
Clete Thomas grounded out to second, scoring Morneau.
Seattle tried to respond in the bottom half of the frame. Deduno walked Raul Ibanez and Seager to put Seattle in scoring position with one out. But Justin Smoak ended the threat by grounding into a double play.
"Deduno's the story for us; he pitched great," Twins manager Ron Gardenhire said. "Got us deep in the game, then we did the best we could with the bullpen, trying to mix-and-match after a long night with a lot of pitches thrown last night."
Seattle gave up another run in the sixth. Reliever Charlie Furbush struck out Morneau and got Ryan Doumit to ground out with no men on. But then Colabello singled, and Furbush walked Thomas and Trevor Plouffe to load the bases. Yoervis Medina relieved Furbush but walked Aaron Hicks to score Colabello, giving the Twins a 2-0 lead.
Medina gave up solo home runs to Brian Dozier and Morneau in the seventh, extending Minnesota's lead to 4-0. They were just Medina's second and third home runs allowed this season, with the first coming Friday night against the Twins.
Jacob Thorpe is an associate reporter for MLB.com. This story was not subject to the approval of Major League Baseball or its clubs.