Deduno's timely dominance lifts Twins
Deduno's timely dominance lifts Twins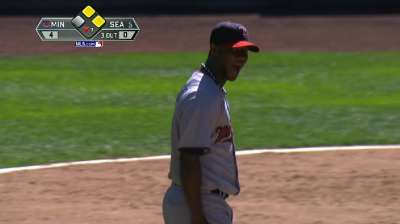 SEATTLE -- Samuel Deduno has been so good recently, he is driving his manager to make goofy barnyard sounds around him.
After Saturday's 4-0 victory against the Mariners, the 30-year-old native of the Dominican Republic impressively imitated the horse sound Ron Gardenhire has been making after Deduno's starts these days.
If he pitches like a horse and sounds like a horse ... well, yes, Deduno must suddenly be the work horse of the Twins' starting staff.
With Minnesota's bullpen out to pasture, Deduno was brilliant Saturday. He delivered exactly what Gardenhire had wished for a couple of hours before the game: a long, effective outing to spare a relief corps that was taxed by 13 innings late Friday night. He allowed three hits in seven scoreless innings to lead the Twins to victory at Safeco Field.
"Deduno's the story for us," Gardenhire said, agreeing that the 2011 waiver claim from San Diego was Minnesota's ace after he led the Twins to their fourth win in six games on a trip that began Monday at the Los Angeles Angels and ends here Sunday.
"They were swinging and missing -- and then looking back not knowing where the pitches were coming from. ... His ball has a lot of movement. Guys don't like to face him."
Deduno (7-4) lowered his ERA to 3.18. Not bad for late-bloomer who has been in professional ball since 2004 and had stops in Casper, Asheville, Modesto, Tulsa, Colorado Springs, Tri-City, Colorado, Tucson, and San Diego before he began this season at Triple-A Rochester because of a bad groin strain.
This was the fourth time in 12 starts this season that the right-hander had pitched seven innings and allowed just one run to win. He has done that twice in his last three outings, including July 13 at Yankee Stadium.
It was the eighth consecutive start Deduno has lasted at least six innings; the essence of a, well ... horse.
"I don't know," he said with a bashful shrug when asked if he was indeed now the ace of the staff. "I'm just going to try to keep doing my job, helping the team win."
Deduno has had problems with control; 25 walks against 36 strikeouts in 69 1/3 innings entering this one. Yet he harnessed his fastball and used a harder, more effective changeup Saturday. Using a changeup at about 88 mph, he walked three while striking out six against a team he had held scoreless on two hits over seven innings last Aug. 29.
"Guys that got to first base were saying, 'Man, I don't know what to look for off this guy,'" first baseman Justin Morneau said. "You rarely see a guy get a ball squared up against him. His ball moves everywhere."
The Mariners are believers.
"He's got real life on his ball: it cuts; he sinks it," said Seattle coach Robby Thompson, who is filing in at manager while Eric Wedge recovers from a mild stroke. "I'm not quite sure sometimes whether he's trying to sink it or cut it, but it definitely has movement on it. He's effectively wild, basically."
The only time Seattle even remotely threatened, Deduno responded brilliantly. After Kendrys Morales led off the bottom of the second with a double, Deduno struck out Kyle Seager and Justin Smoak in succession and got Endy Chavez to ground out. With two on and one out in the fourth, he got Smoak to ground up the middle for a double play turned deftly by shortstop Doug Bernier and second baseman Brian Dozier.
One of the starters for Team Dominican Republic in March's World Baseball Classic -- where Gardenhire thinks he gained vital confidence -- Deduno then retired the next nine Mariners as the Twins inched ahead, 4-0. He hung a 2-0 pitch in the seventh that Smoak pulled just foul outside of the right-field pole, a few feet away from it becoming a 4-2 game.
Deduno's response? After walking Smoak to put two Mariners on, he got Chavez to ground into an inning-ending double play on his 110th and final pitch.
He pumped both fists three times and roared as Minnesota completed its Major League-leading 122nd double play. The pitcher then received a hero's welcome of high-fives and back slaps in the visiting dugout for that pitch -- and his entire, timely start.
He appreciated the confidence Gardenhire showed him in keeping him in to face Chavez to get that ace-like moment.
"I was very excited; I said to myself, 'I can do it!'" Deduno said.
The Twins used a double by Morneau, a flyball botched by the Mariners for a single, and then a groundout by Clete Thomas for their first run, in the fourth inning. With two outs in the sixth, they got a single by Friday's hitting hero, Chris Colabello, and then three consecutive walks to force in their second run.
Then, in the seventh inning, Dozier hit his ninth home run. Morneau followed two batters later with his eighth homer, just his second in 18 games. It thrilled the two dozen or so friends and family members he had in from nearby British Columbia -- and gave Deduno plus relievers Josh Roenicke, Jared Burton and Anthony Swarzak three more runs than they needed to win this one.
Gregg Bell is a contributor to MLB.com. This story was not subject to the approval of Major League Baseball or its clubs.