Hunter returns following sound pregame drills
Hunter returns following sound pregame drills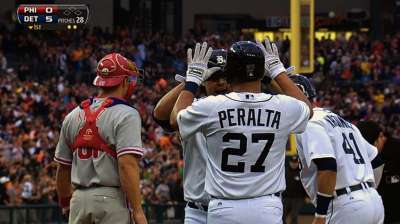 DETROIT -- Outfielder Torii Hunter returned to the Tigers' lineup on Saturday night after missing Friday's game due to ongoing soreness in his left Achilles.
Hunter went 3-for-4 with two runs scored and an RBI in a 10-0 victory over the Phillies.
Hunter did a series of drills on the field at Comerica Park around 3 p.m. ET with head athletic trainer Kevin Rand watching, and says that he didn't have any problems.
"It feels great," said Hunter, who started in right field and hit second against the Phillies. "I went out there and did everything possible. Cuts, kareoka, side shuffles, sprints, stop-and go, everything and it felt good."
Although Hunter did a similar test of drills on Friday, he wanted to be smart about not aggravating the situation.
"It was just sore," Hunter said. "It wasn't any pain or anything. When you lift weights, and the next day you're sore, that's how I felt."
Hunter entered Saturday second in the American League with 18 RBIs in July and is third with 17 runs scored to go along with a .349 batting average and six home runs.
Bobby Nightengale is an associate reporter for MLB.com. This story was not subject to the approval of Major League Baseball or its clubs.