Florimon rests heading into grueling part of schedule
Florimon rests heading into grueling part of schedule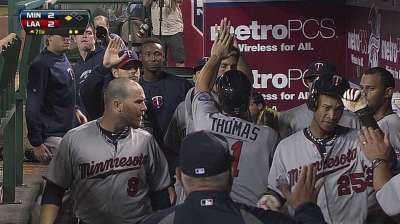 SEATTLE -- Pedro Florimon has started 81 of the Twins' 101 games at shortstop. Saturday was not one of them.
About 14 hours after he played all 13 innings of Friday night's win, the 26-year old watched rookie Doug Bernier make his second career start at shortstop in his place.
It was not a day-game-after-night-game move. Manager Ron Gardenhire said Florimon's rest was part of an ongoing plan to play his many young players often, especially before the Twins enter a grinding part of their schedule.
After Monday's off-day -- when Joe Mauer will return from paternity leave for Tuesday's series opener at home against Kansas City -- Minnesota is scheduled for just two off-days in August and one in September.
Dog days, indeed.
"We're just playing everybody; I want to make sure that everybody is involved," Gardenhire said. "We're going into a stretch of games here when everybody's going to play. We have so many games with very little days off."
Gregg Bell is a contributor to MLB.com. This story was not subject to the approval of Major League Baseball or its clubs.