Scherzer gifted with 15th win in Miggy's return
Scherzer gifted with 15th win in Miggy's return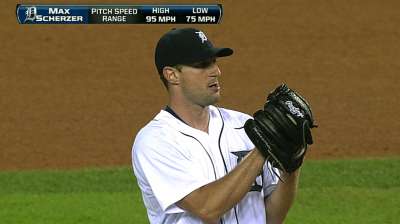 DETROIT -- Max Scherzer had to go to work on his 29th birthday. His surprise gift from the office was the return of Miguel Cabrera and an eight-run lead after two innings.
From that point on, Scherzer's latest addition to the Tigers record books seemed more like a cakewalk.
"That's why I love being in Detroit," Scherzer said after Saturday's 10-0 victory over the Phillies. "With this offense, if you go out and pitch well, you have a great chance to win the ballgame."
Nobody is converting chances like Scherzer this year. At this point in a season, no Tiger ever has converted chances like him.
"He's good. How can I say 15-1 ain't good? He's good," Phillies manager Charlie Manuel said.
It won't go down with Scherzer's perfect start, but Scherzer's 15-1 record is a first from a Tigers pitcher. It's the fourth time for a Major League hurler, but it's becoming almost a regular occurrence in the Majors lately. How Scherzer carries it through the rest of the way will determine whether he can separate himself once again.
From the moment Cabrera connected with a Raul Valdes fastball on his first swing back in the lineup for a line-drive solo homer to left, Scherzer was in front. The American League's All-Star starter delivered six shutout innings of one-hit ball in becoming the third Major League pitcher in four years to go 15-1, matching Jered Weaver's mark from last year and Ubaldo Jimenez's fast start for the 2010 Rockies.
Jimenez got there by the All-Star break, then fizzled down the stretch to finish 19-8, proving that even a 20-win season isn't guaranteed. Weaver slowed down the stretch, but made it to 20 wins in his next-to-last start of the season. Roger Clemens' 2001 start with the Yankees was the only other time a starter has opened with a 15-1 record. Clemens finished 20-3.
Scherzer is showing no signs of a letdown. He has insisted all along that wins and losses aren't a gauge of how he's pitching, more a reflection of the team's success behind him.
"I live start to start," he said. "That's something I've always done since I've been in the big leagues, and it's just something that works for me. You don't really get caught up in every other thing that happens and all the hoopla. For me, I always focus on the next team and develop a game plan to get those guys out."
The way he pitched on Saturday, shutting down an opponent for the first time all season, it took a lopsided score to get him out of the game, not his pitch count or Phillies hitters.
"Max has been pitching his butt off," said outfielder Torii Hunter, who also returned to the Tigers' lineup after sitting out Friday's series opener with a sore Achilles. "We got run support for him. It was his birthday, so that's our way of saying happy birthday. ...
"Usually he's facing a guy that's almost at the same caliber as he is, so for us to get some runs for him early, he was good to cruise and he did a great job."
Considering Scherzer already led the Majors in run support at 7.32 runs behind him per nine innings, it wasn't a new feeling. Still, that big of a lead that early left even him challenged to maintain his focus.
"You are more relaxed," Scherzer admitted, "but you can't let that breed complacency. Those hitters will get you in a heartbeat, so you have to be on the attack and pitch your normal game. You can't get deterred of what the score of the game is. You always have to be on the attack and pitch the right offspeed pitches. I thought I was able to do that tonight, that's why I pitched so effectively."
Darin Ruf's second-inning double, a two-out drive that seemingly hooked on its way to right-center field and carried out of Austin Jackson's reach as he tried to curve back, comprised the only baserunner Scherzer allowed. He had retired Philadelphia's first five hitters on line drives and fly balls.
From Ruf's double on, he retired the final 13 batters he faced, seven via strikeout.
Scherzer has delivered 12 quality starts in his last 13 outings, including five outings giving up one run or fewer. His earned-run average dropped to 3.01, his lowest since April 17.
His five strikeouts, meanwhile, stretched his streak with at least that many to 21 starts to begin the season, third-longest in American League history. Bob Feller holds the record with 32 starts in a row with five or more strikeouts in 1946, followed by Pedro Martinez's 29-start streak in 2000.
Whatever chances Valdes, making a spot start in place of injured Cliff Lee, had of holding down Detroit's lineup looked shakier with Cabrera and Hunter back from abdominal and Achilles strains, respectively. Cabrera's 32nd homer of the year set off a five-run opening inning that included a three-run homer from Matt Tuiasosopo into the center-field shrubs.
Cabrera, who missed four consecutive games, singled in another run in a three-run second, then drove in Hunter with a fourth-inning groundout to put the Tigers up 9-0. That was enough for manager Jim Leyland to lift him as a precaution rather than risk re-injury.
"I normally don't take my guys out with big leads," Leyland said. "I usually take them out with big deficits. ... In this case, when we have someone that's coming off an injury, it makes a lot of sense."
Jason Beck is a reporter for MLB.com. Read Beck's Blog and follow him on Twitter @beckjason. This story was not subject to the approval of Major League Baseball or its clubs.