A's turn back the clock to celebrate 1969
A's turn back the clock to celebrate 1969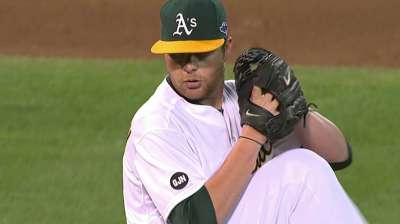 OAKLAND -- The A's sported throwback uniforms in Saturday's 1969 Turn Back the Clock Day at O.co Coliseum.
The legendary green-and-gold look was a unique change of pace with a shot of nostalgia that embraced the franchise's past, but it was quite a contrast to the Angels' modest gray throwbacks from 1969.
Vests, a trend that began when the A's were still in Kansas City, are involved in deep California gold and match the trousers, which if worn properly are hiked at the knee to display striped stirrup socks and white cleats. Beneath the vests are lime-green undershirts, and etched on the front is the A's logo -- 1969 was the first year the Athletics adopted an apostrophe S beside the traditional A -- and on the back are numerals without names.
"I've watched these teams when I was younger, so that makes it kind of cool," A's manager Bob Melvin said. "When I saw [bench coach] Chip Hale put his uniform on with the No. 14, I instantly thought of Vida Blue, where I don't as much wearing the white uniforms. It's definitely something that resonated at some point in time with me."
Blue, a member of the 1969 A's and winner of the American League Cy Young and MVP awards in '71, threw out Saturday's ceremonial first pitch but wasn't wearing the uniform. Melvin said Hale was in uniform as early as 7:30 a.m.
A's starter Brett Anderson was in full garb when he made his third-inning TV appearance, though he said beforehand that he feared they won't complement an injured right foot that has kept him out for much of the season.
"Just giving people what they want," Anderson said. "I'm kind of upset I have to do it in a throwback uniform because my ankle-to-calf ratio's not very good, so I'll look like Jim Thome in 1970. So maybe I'll get some Twitter followers."
Jane Lee is a reporter for MLB.com. Jeff Kirshman is an associate reporter for MLB.com. This story was not subject to the approval of Major League Baseball or its clubs.