Cards, Kelly come out on wrong end of pitchers' duel
Cards, Kelly come out on wrong end of pitchers' duel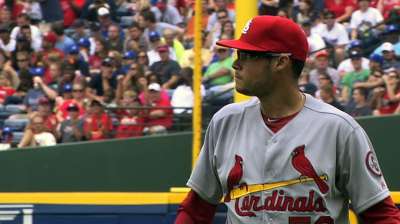 ATLANTA -- As the Cardinals look to fortify their rotation for the final two months of the season, they are considering several routes.
There is the possibility of going outside the organization by trading for a starter before Wednesday's non-waiver Trade Deadline. There's also the option to dip into the farm system and pluck a rising young arm like Carlos Martinez or Michael Wacha.
Or perhaps, the answer was revealed on the mound at Turner Field on Saturday.
Before shortstop Andrelton Simmons stung the Cardinals with a two-out, two-run, eighth-inning double to lead the Braves to a 2-0 win, Joe Kelly again shined. Pitching on two weeks rest and in front of a crowd of 48,312, Kelly pitched deeper than he had all season -- and, in the eyes of his manager, better than he ever had before.
"That was maybe the best I've ever seen him throw," Mike Matheny said. "It was not an easy circumstance with everything put in play, but I think that tells you a lot about him."
Kelly has lacked a defined role since losing the fifth starter competition in Spring Training. He's been valuable as a long man in relief and has stepped in to start four times. On Saturday, he provided the Cardinals with a season-high 6 1/3 scoreless innings.
That was overshadowed only because Atlanta's Julio Teheran matched it. A night after being held to one run on four hits in Mike Minor's seven-inning start, the Cardinals tallied two in Teheran's seven innings. Both of those were doubles, but the Cards never advanced a runner to third.
"It's not about how hard you throw. It's, 'Can you locate and mix your pitches?'" third baseman David Freese said. "And the last two days, they've done that extremely well. They have shut down a very good offense."
Eventually, the Braves broke through the pitchers' duel, getting to both Randy Choate and Trevor Rosenthal in the eighth. A day after retiring left-handed hitters Freddie Freeman and Brian McCann, Choate allowed both to reach. Freeman drew a walk; McCann blooped a one-out single into center.
"Freeman laid off some pitches that were pretty close," Choate said. "I jammed McCann ... and he just flared it out there. I don't feel bad about the way I pitched. They laid off some good pitches."
Rosenthal relieved Choate, but after a strikeout, he loaded the bases with a walk. He then served up Simmons' game-winning hit. It sent the Cardinals to a second straight loss to open an 11-game, three-city road trip.
"I was just looking for something over the plate, and he threw it somewhere where I could reach," Simmons said. "They're a great team. They got us last year in a pretty big game, and we owe them some."
While the Cardinals have lost back-to-back games against National League opponents for the first time since June 4-5, the re-emergence of Kelly could carry more long-term weight. As the Cardinals consider their fifth-starter options beyond the weekend, he has certainly put his name back into conversation.
He wouldn't cost the Cardinals prospects, the price the team would pay should it add at the Deadline. Too, Kelly has experience pitching in the pressure of the postseason, something that a rookie starter would not. Last year, Kelly made 16 starts. Ten of those were considered quality starts and he posted a 3.74 ERA.
"I like pitching, period," Kelly said. "To be a part of the rotation would be awesome. I just take the ball when they tell me."
"It's been a nice problem to have trying to figure out what's best for him," added Matheny. "He proved that once again. He was really good for us last year and he was really good for us once again. "
To this point, Kelly's role has been arguably the most glamorous on the team's pitching staff. He's been the mop-up man out of the 'pen several times and his starts have come on irregular rest.
The sporadic use, however, has evidently not cost Kelly his strength.
Coming off the longest in-between outings break of his season, Kelly threw a season-most 86 pitches. His ability to stay in the game as long as he did was a credit to him complementing his effectiveness with efficiency.
Kelly induced a lot of early contact in the first few innings to keep that count down. He recorded the first of his three strikeouts in the fifth, was touching 96-97 mph late in his outing, and featured a curveball that has been added more prominently into his repertoire this year.
"To have guys like that who can come out of the 'pen and spot start and give you quality innings and give your offense a chance to win, that's huge," Freese said. "Not a lot of teams have guys like Joe who can easily transition into the starting role when need be."
Kelly's biggest bit of trouble came in the seventh, when a one-out single and pinch-hit double that Joey Terdoslavich placed between Matt Holliday and Jon Jay in left center advanced a pair of runners into scoring position. After intentionally walking Jason Heyward, Kelly handed the mess over to Seth Maness.
The league leader in double plays induced another, getting Justin Upton to ground into one to end the threat. The double play was Maness' 11th this season. Six of those have come in situations where he entered mid-inning with at least two runners aboard.
But the Cardinals couldn't break the Braves' bullpen. Relievers Luis Avilan and Craig Kimbrel sent St. Louis to its fifth shutout loss of the year.
"I think we give credit where credit is due," Matheny said. "We're playing a team that is doing a lot of things right, but so are we. We really don't make any more of it than that. It's just a matter of capitalizing on the few opportunities that we get."
Jenifer Langosch is a reporter for MLB.com. Read her blog, By Gosh, It's Langosch, and follow her on Twitter @LangoschMLB. This story was not subject to the approval of Major League Baseball or its clubs.