Nova drops duel against Rays' dominant Archer
Nova drops duel against Rays' dominant Archer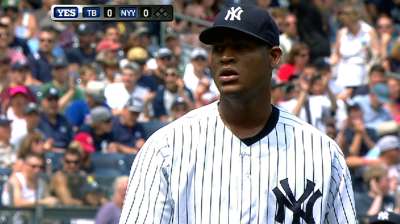 NEW YORK -- Yankees starter Ivan Nova pitched a good game on Saturday. Chris Archer pitched a great one.
The Rays right-hander needed just 97 pitches to dominate New York, allowing only two hits as he threw the Rays' first shutout against the Yankees. Nova pitched seven strong innings of his own, but the one run he gave up in the sixth was enough for Tampa Bay to secure a 1-0 victory.
"It feels really bad. We haven't scored enough runs in my last two starts," Nova said. "Sometimes when you pitch good, it's hard to be charged with a loss. It doesn't feel great."
Nova matched Archer over the first five innings, allowing just three hits as he kept the Rays off the scoreboard. Tampa Bay didn't break through until the sixth, when Kelly Johnson hit an RBI single to center to score Ben Zobrist from second base.
"It was a two-seamer down and away, he hit it off the end of the bat and it just fell in there," catcher Chris Stewart said. "It's kind of the way our breaks have been going right now."
It was the fourth consecutive start in which Nova threw at least seven innings while allowing three runs or less. He allowed six hits and three walks while striking out eight, lowering his July ERA to 2.03.
"Nova was outstanding," Rays manager Joe Maddon said. "That's like a classic, old, mid-'60s kind of pitching duel at Yankee Stadium. It was incredible to watch. But our guy was just a little bit better. [Archer] was that good."
The Rays rookie didn't allow a baserunner until Ichiro Suzuki reached on third baseman Evan Longoria's error in the fourth inning, and he didn't allow a hit until Yankees first baseman Lyle Overbay singled to center field with one out in the fifth. He recorded six strikeouts and didn't walk a batter.
Saturday marked the second complete game of Archer's career, the first of which came two weeks ago in a win against the Astros. The Rays have now won each of his past seven starts -- including one against the Yankees on June 23 -- and Archer has a 1.31 ERA during that stretch.
"You look at his last five or six starts, he's really been on a roll," Yankees manager Joe Girardi said. "I thought early on we hit some balls hard, didn't have a lot of success. They were standing right where we hit the ball and then we didn't really have any opportunities. We had one guy in scoring position the whole day."
Overbay and center fielder Brett Gardner recorded the only two hits for the Yankees, which ties a season-low. Designated hitter Alfonso Soriano took the collar for the second straight game since coming over from the Cubs, going 0-for-3 with two flyouts and a groundout.
"It's my responsibility to do my job, not to try to do too much," Soriano said. "I think the offense is not good right now, but as soon as we put one inning together, I think everything will be fine."
The Yankees sure hope so. Saturday was the ninth time New York has been shut out this season, which is three more than last year and the most it has had in a single season since 1997.
New York placed designated hitter Travis Hafner to the disabled list with a right rotator cuff strain, but could get a boost from shortstop Derek Jeter, whom Girardi said would be in the lineup Sunday if he feels good.
For an offense that has struggled to support strong efforts from the Yankees' pitching staff throughout the month of July, Jeter's return would be a welcome addition.
After all, Nova gave New York another dominant start Saturday, but a scuffling Yankees offense made Archer look even more dominant.
"You got to stay trying to keep the game close, hoping that they're going to score a run at some point," Nova said. "That's the only thing that I can do; try to keep my team in the game."
Josh Vitale is an associate reporter for MLB.com. This story was not subject to the approval of Major League Baseball or its clubs.