Rays' roll continues as Archer throws another shutout
Rays' roll continues as Archer throws another shutout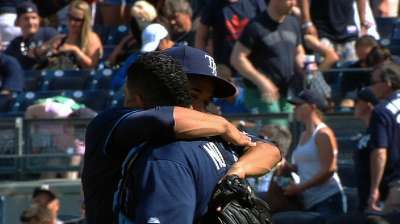 NEW YORK -- The way Chris Archer and Ivan Nova were pitching Saturday afternoon, one run looked pretty significant. And as it turned out, one run proved to be enough for the Rays thanks to Archer, who pitched his second shutout in his last three starts as the Rays defeated the Yankees, 1-0, at Yankee Stadium.
Tampa Bay (62-42) moved to 7-1 on its 10-game road trip to start the second half. On June 23, the Rays were in last place in the American League East by percentage points and six games out of first place. They have gone 24-5 since to jump the four teams in front of them and take over first place.
"That's like a classic, old, mid-'60s kind of pitching duel at Yankee Stadium," Rays manager Joe Maddon said. "It was incredible to watch, but our guy was just a little bit better. [Archer] was that good."
Archer ran his winning streak to four games with his fifth consecutive quality start en route to his seventh win of the season. And he needed just 97 pitches to do so. In the process, he became the first rookie to earn a victory in a 1-0 shutout win against the Yankees since Milwaukee's Ted Higuera did so on Oct. 2, 1985. He also became the first rookie to throw a shutout of any score against the Yankees at Yankee Stadium since Baltimore's Arthur Rhodes did so on July 29, 1992.
"He's been on a roll," Yankees manager Joe Girardi said. "You look at his last five or six starts, he's really been on a roll. I thought early on we hit some balls hard, didn't have a lot of success. They were standing right where we hit the ball and then we didn't really have any opportunities. We had one guy in scoring position the whole day."
Archer retired the first nine batters he faced before Evan Longoria's error at third allowed Ichiro Suzuki to reach base in the fourth. Archer then got Robinson Cano to ground into a 6-5-3 double play.
Lyle Overbay got the Yankees' first hit with one out in the fifth, but Archer retired the next two hitters on groundouts. Archer then took the decision out of his manager's hands when deciding whether to go to Joel Peralta or Fernando Rodney at the end. Archer retired the last 10 batters he faced.
"Going into the ninth inning, I was fully confident that we weren't going to have to go to the bullpen because this is the best I've ever felt, this month, in my life," Archer said. "As far as pitching goes and as far as everything else goes. Seems like everything is falling into place for the team, we're just vibing. There's a chemistry that you can't put words on. And I'm not even going to try to."
Tampa Bay's starters appear to be feeding off one another, which is personified by the fact that in the last 25 games started by Archer, David Price, Matt Moore and Jeremy Hellickson, the Rays are 24-1.
"To follow the other stallions in the bunch kind of makes it a little bit easier for me because they do such a great job of being efficient," Archer said. "Our team's just rolling right now. It's fun to be out there. It's the most fun I've ever had playing baseball at any level."
The Rays have won the last seven games Archer has started since dropping three of his first four, back when high pitch counts would drive him from the game early.
"We knew he was good, but to do what he's doing now is a little bit more than that," Maddon said. "That was a complete-game shutout under 100 pitches against a good team. Obviously, his confidence is way up there. He is taking this to another level. He's a bright guy, he understands what's going on. I thought the biggest hurdle for him was to control his emotions and keep his focus, which he's been doing."
Much has been made about Price's example and influence paying rich dividends for Archer. Archer incorporated a healthy dose of Price on Saturday, along with a tip he received while in Boston from former All-Star pitcher Curt Schilling.
Schilling "was like, 'Have a purpose with every pitch,'" Archer said. "'Try to get a result with every pitch.' I found myself doing that today. So three, four pitches, I was able to get most of the guys out because I was trying to throw everything around the plate with the intention of getting a result."
Meanwhile, Nova used a nasty curveball to hold the Rays hitters in check. But again, the Rays are on a roll, so even the decisions the manager makes seem to go well no matter what.
Maddon opted to start Kelly Johnson, who entered the game hitting .111 against Nova, in left field, even though Sean Rodriguez had a career .417 average against Nova. Johnson, of course, waited for a Nova fastball, then singled home the game's only run with two out in the sixth.
Maddon smiled about the results of his decisions, noting that when a team's on a roll, "the players just make you look good."
Bill Chastain is a reporter for MLB.com. This story was not subject to the approval of Major League Baseball or its clubs.