Three homers cost Gee in loss to Nationals
Three homers cost Gee in loss to Nationals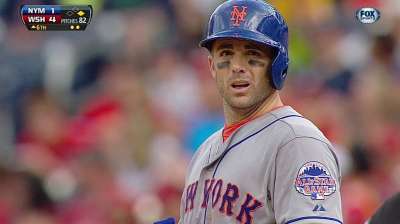 WASHINGTON -- When the Mets decided to move to a six-man starting rotation this weekend, they did so without reservation. Thanks to unexpected contributions from Carlos Torres and Jenrry Mejia, the team found itself suddenly sitting on a surplus of pitching.
Another key to that group is Dillon Gee, who rebounded from a horrific run earlier this season to become a standout starter in June and July. But Gee gave up three home runs Saturday in a 4-1 loss to the Nationals, putting the Mets at risk of just their second series loss since June.
"He made four mistakes basically, and they ended up hurting us bad," manager Terry Collins said. "But I thought he threw the ball good. Unfortunately, we weren't able to get anything going, but the home runs are killing us, there's no doubt."
All of Gee's trouble surfaced early, beginning when Ian Desmond and Denard Span blasted consecutive solo homers off him in the second. An inning later, after pitcher Dan Haren doubled, Bryce Harper hit a two-run shot to center field.
"The balls they hit out were definitely mistakes," Gee said. "They weren't good pitches. They did a good job. I was happy to at least be able to get through seven innings -- that was big. But the damage had been done."
As Gee noted, he settled down from there to retire eight in a row and seven of the last eight batters he faced, departing after seven innings. But the Mets could not support him at all against Haren.
On the wrong end of a 10-1 blowout the last time he met the Mets, Haren was markedly better Saturday afternoon at Nationals Park. He did not allow a hit until the fourth inning, eventually erasing that baserunner on a double play. And he did not allow a run until the sixth, when Eric Young Jr. singled, stole second and scored on David Wright's single.
Haren lasted seven innings, giving up three hits -- two of them to Wright -- and one walk, striking out six.
There was some grumbling afterward about the strike zone -- particularly on Gee's 1-2 fastball to Desmond in the second inning, which home-plate umpire Lance Barksdale called a ball, and Rafael Soriano's game-ending 3-2 fastball to Ike Davis, which Barksdale called a strike. But, as Collins noted, the simple fact was that the Mets "just couldn't mount anything."
For Gee, the loss was more curious than concerning. Coming off two consecutive starts without an earned run, the right-hander had not allowed a homer since June 22 -- a span of 34 1/3 innings, or the equivalent of nearly four full games. But he proceeded to give up three homers in three innings to the Nationals, who scored a total of two runs off him in three prior meetings this season.
"I've had good success [against them], but they're still a really good team with really good hitters," Gee said. "They're going to make you pay for mistakes like that."
Still, Gee did not walk a batter and needed only 80 pitches to complete seven innings, suggesting that his usual command was intact. He simply made a few critical mistakes, which proved enough to sink the Mets.
Though the Mets moved to a six-man rotation primarily to prevent Matt Harvey and Zack Wheeler from reaching their 2013 innings limits too soon, the new format also has tangible benefits for Gee. For most of this season, Gee has been pitching through right forearm tendinitis, which does not usually pain him but requires extra caution.
An additional day of rest each week could be just what Gee needs to finish this season healthy and strong -- to avoid more days like Saturday, in other words, when he could not find his top form.
"I felt pretty good today, I just made a few mistakes that they capitalized on," Gee said. "They're good hitters and you've got to tip your hat. They really made me pay."
Anthony DiComo is a reporter for MLB.com. Follow him on Twitter @AnthonyDicomo. This story was not subject to the approval of Major League Baseball or its clubs.