Simmons delivers double to reward stellar pitching
Simmons delivers double to reward stellar pitching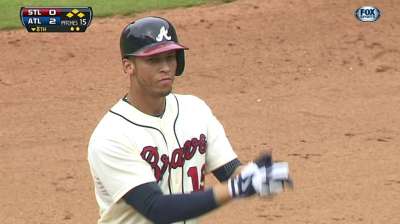 ATLANTA -- Andrelton Simmons' bases-loaded double with two outs in the eighth lifted the Braves to a series-clinching 2-0 victory over the Cardinals and ensured that starting pitcher Julio Teheran's sparkling two-hit no-decision would not be spoiled in defeat.
The way Saturday's game was going, Braves manager Fredi Gonzalez could not afford to treat any situation with runners in scoring position lightly -- even if it meant taking out Teheran amid one of his best outings of the season. The Braves left 10 men on base, but Simmons made their last best opportunity count, breaking a scoreless tie in the eighth with one swing on a day when clutch hits came at a premium.
Teheran traded clean frames with Cardinals starter Joe Kelly for seven innings in a spirited pitchers' duel, but he was lifted after 88 pitches for a pinch-hitter when Gonzalez sensed an opportunity to scrape out a run in the seventh inning. Simmons got things started in that frame with a one-out single into left field, and Joey Terdoslavich was sent in to hit for Teheran.
"Julio was outstanding, so much that we had to think about not pinch-hitting for him, but you have to take a shot," Gonzalez said. "Your bullpen's in pretty good shape, and you have to take a shot there."
The rookie switch-hitter rewarded Gonzalez for his trust by dropping a double into left-center, moving Simmons to third. But just after Jason Heyward was intentionally walked to load the bases and Cardinals manager Mike Matheny pulled Kelly via a double switch, Justin Upton grounded to new shortstop Pete Kozma to start an inning-ending 6-4-3 double play.
Reliever Luis Avilan responded with a perfect eighth inning out of the bullpen, punctuated by a strikeout of Kozma on a 3-2 fastball that sent the Braves promptly back to the plate. Freddie Freeman started the bottom of the eighth with a five-pitch leadoff walk, courtesy of St. Louis left-hander Randy Choate, and moved to second on Brian McCann's single into shallow center field. Choate was pulled for flamethrower Trevor Rosenthal, who struck out Dan Uggla and walked Chris Johnson to load the bases.
Simmons stepped in with two outs, worked the count to 2-1 and roped a 99-mph fastball to left-center to score Freeman and McCann. The stand-up double was just Simmons' fourth hit in 45 at-bats with two outs and runners in scoring position this season, and it came after Simmons had gone quietly with runners in scoring position in the second and fourth innings, when his close friend Teheran was still in line for the win.
"He's my boy, so whenever he's out there, I try my utmost ... to see him do good, to get him a win," Simmons said of Teheran. "Unfortunately, I couldn't get that hit [earlier], but he's been doing great for us. He's been pounding the strike zone, he's been striking people out."
After allowing two runners to reach with two outs in the first inning, Teheran retired 19 of the final 20 batters he faced, with Jon Jay's fifth-inning double to left the only interruption in an impressive stretch of shutdown pitching. Time after time, Teheran dropped in looping curveballs in the low 70s to keep the Cardinals off balance for his low-to-mid-90s fastball. The 22-year-old right-hander felt like his command was the best it had been all year.
"My curveball, it's getting better, and I used it a lot today," Teheran said. "It was slow, and I was trying to kind of play with them, so that's how it worked today."
Kelly held down the potent Atlanta lineup while turning in his longest start of the season, scattering seven hits over 6 1/3 innings. Johnson provided the Braves offense its only spark in the early going, putting runners into scoring position on two separate occasions with singles into center field in the second and fourth innings.
"You just have to keep grinding," Johnson said. "[Heyward] got a hold of one [Friday] night, but you're not going to go up there and just slug them away and hit homers. You have to come up with the big hit with guys on, just try to give yourself as many opportunities as possible. Those arms they have over there, that lineup, it's an honor to beat that team."
Braves closer Craig Kimbrel retired the side in order in the ninth to record his 30th save this season, joining John Smoltz as the only Atlanta pitchers to save 30 games in three consecutive seasons.
Gonzalez hailed the first two games of this weekend series as his team's strongest back-to-back efforts of the year: one day after Mike Minor held the National League's highest scoring offense to just one run, Teheran and the bullpen did their teammate one better with eight combined strikeouts to maintain an 8.5-game lead in the NL East.
"It's not about how hard you throw," Cardinals third baseman David Freese said. "It's, 'Can you locate and mix your pitches?' And the last two days, they've done that extremely well. They have shut down a very good offense."
Eric Single is an associate reporter for MLB.com. This story was not subject to the approval of Major League Baseball or its clubs.