Three blasts help Haren to first win since May
Three blasts help Haren to first win since May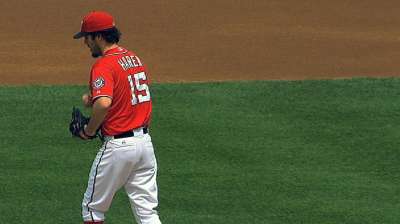 WASHINGTON -- A little more than a month ago, Dan Haren was booed off the mound at Nationals Park. He allowed six earned runs and recorded 10 outs as his ERA ballooned to 6.15, among the highest in the Major Leagues.
"I'd probably boo myself, too," he said after the game.
On Saturday afternoon against the Mets, Haren again took the mound at Nationals Park. And this time he had one of his best starts in a Nationals uniform, allowing just three hits and a single run over seven innings as the Nationals toppled New York, 4-1.
"It's obviously been a long time since I had that winning feeling after a game, so it definitely feels good," Haren said. "I'll enjoy it for a day or two and then try to keep the way I've been throwing the ball the last couple times, try to keep that going."
Ian Desmond homered for the first time since June 30 and Denard Span homered for the first time all season in consecutive at-bats in the second inning. The game was delayed for 62 minutes in the bottom of the eighth because of rain before Rafael Soriano pitched a scoreless ninth, untucked his jersey and picked up his 26th save of the season.
After losing their first six games since the All-Star break, the Nationals have quietly won three of their past four.
"We're just taking it as it comes," Span said. "We've been up and down all season. Every time it seems like we have a dramatic victory, we think we're getting ready to turn the corner, and then all of a sudden, we'll lose a series or lose a few games in a row. Right now, we're just trying to take one game at a time and just enjoy each victory as they come."
Haren has been wildly inconsistent this season, but he was dialed in from the first pitch on Saturday and picked up his first win since May 9. He struck out six, walked one and even helped his own cause with a double to deep center field in the third inning. Bryce Harper, two days removed from the first walk-off homer of his career, hit a two-run blast to knock the right-hander home.
"I think Dan's an unbelievable teammate, athlete. He's a great competitor out there," Harper said. "He's an All-Star. He's been an All-Star his whole career, and it's exciting to see that today."
Haren was placed on the 15-day disabled list on June 25 because, in manager Davey Johnson's words, he "had trouble getting loose." The three-time All-Star was 4-9 with a 6.15 ERA and looked like a waste of the $13 million that the Nationals spent to sign him in the offseason.
"Obviously, we're a few games under .500 and a big reason for that is me," Haren said. "I take a lot of the blame."
The 32-year-old has explored every possible remedy for his struggles this season. Haren has watched video, studied statistics, tried new techniques and revisited old ones. After Saturday's game, he said that the solution has been a relentless and concentrated effort to keep the ball down in the strike zone.
In his past four starts, Haren has a 3.13 ERA with 18 hits allowed, six walks and 26 strikeouts.
"How about Haren? How about that?" Johnson said to begin his postgame news conference. "Much better. Very consistent. He didn't have any blips on the screen, like one bad inning. He was outstanding."
Haren cruised through an 11-pitch first inning on Saturday and got some early help from his offense. Desmond worked a full count against Mets starter Dillon Gee in the second inning before taking a center-cut changeup to left-center field. Then Span hit a towering fly ball, which barely reached the right-field seats, on the next pitch.
"I tell you what, after hitting one today, it felt like I might hit 30 for the rest of the season," Span said, smiling. "You guys watch out for me."
Harper tacked on two more runs in the third with a home run to straightaway center, his second blast in three days.
"All the balls were up, belt high out over the plate," Mets manager Terry Collins said. "Certainly one thing we know they can do is they're a dangerous club, they've got good power."
The Mets got on the board in the sixth for Gee, who allowed only six hits over seven innings. Eric Young Jr. hit a one-out single over Desmond's head and stole second base without a throw. David Wright then hit a grounder past a lunging Ryan Zimmerman at third to drive in Young.
Haren settled down and struck out two of the final three batters that he faced. Mets center fielder Juan Lagares whiffed on Haren's last pitch of the game and slammed his bat on the ground in frustration.
As he walked to the dugout, Haren this time received a standing ovation.
"I was finally able to maintain some momentum," he said. "That's something I haven't done all year. It feels good. Hopefully, we win tomorrow and then go off on the road feeling good."
Tom Schad is an associate reporter for MLB.com. This story was not subject to the approval of Major League Baseball or its clubs.