Feldman, bullpen unable to contain Red Sox's bats
Feldman, bullpen unable to contain Red Sox's bats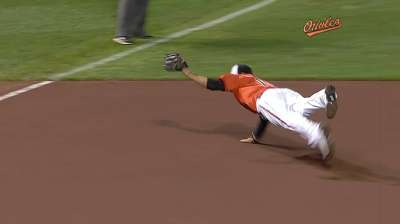 BALTIMORE -- After a game in which they could do no wrong Friday, the Orioles couldn't repeat that outing Saturday. They had beaten the Red Sox on Friday behind the strength of four home runs, great starting pitching and two scoreless innings from key relievers.
Saturday, however, was a different story. Orioles pitchers couldn't keep the Red Sox in the ballpark and the offense sputtered against Ryan Dempster and Boston's bullpen. Stephen Drew hit a pair of home runs and drove in five runs as the Red Sox beat the O's, 7-3, in front of a sellout crowd at Camden Yards following a 27-minute rain delay before the first pitch.
The Rays beat the Yankees on Saturday afternoon, so the Orioles fell 4 1/2 games out of first place in the American League East. They're four games behind the Red Sox for second place.
Scott Feldman pitched five innings, allowing four runs on six hits, including Drew's three-run homer in the fourth. Feldman had thrown 38 innings at Camden Yards without allowing a home run before Drew's blast. Only former reliever Mark Eichhorn, with 43 1/3, had pitched more innings at the park without allowing a home run, according to STATS Inc.
Boston picked up consecutive two-out singles in the fourth before Drew smashed his sixth homer of the year out to right field to make it 4-0. The fourth-inning homer off Feldman gave the Red Sox some breathing room. They had pushed the first run across in the third when Drew singled and came around to score.
"It really just came down to that fourth inning. Gave up a couple two-out knocks and then made a bad pitch to Drew and he hit it over the fence," Feldman said. "That's not how I want things to go, but he is a good hitter and I just made a bad pitch to him right there. And he did damage with it."
It was Feldman's shortest outing since the right-hander was acquired in a trade with the Cubs at the beginning of July. It matched his shortest start this season since he went five innings April 21. In five starts for the Orioles, he had averaged 6 2/3 innings per start, and was unable to get out of the sixth inning just once before Saturday. His best start for Baltimore was his previous outing, when he allowed two runs in eight innings against the Royals.
Feldman said he fell behind in the count more often than he had in previous starts, and as a result, he couldn't "control the at-bats" as much as he did before.
"I thought he was OK. We just didn't score that many runs," manager Buck Showalter said. "[They] had two outs, nobody on [in the fourth], got a couple pretty good hitters out and obviously the three-run homer was a big blow. It was a competitive outing. We just didn't do much offensively early on."
Relievers Troy Patton and Jairo Asencio didn't fare much better in an inning apiece. Each gave up a homer before Boston's power display was over.
The second home run of the night off Drew's bat needed a review. He appeared to hit Patton's sixth-inning pitch off the top of the wall in right-center field and it kicked away from both outfielders converging on it. A runner scored ahead of Drew, and Drew was caught a little too far off third base rounding the bag. He escaped the rundown and scored anyway. After a brief review, the umpiring crew ruled the ball left the park, and Drew was credited with his second home run of the night.
Shane Victorino hit the first pitch he saw from reliever Asencio in the seventh for the third Red Sox homer.
Baltimore put a run on the board in the fifth when J.J. Hardy and Henry Urrutia hit back-to-back singles to open the inning. Brian Roberts then hit a single off the right-field scoreboard to score Hardy. Nick Markakis also scored from third in the sixth on Matt Wieters' groundout. And Adam Jones scored in the eighth when Hardy's two-out grounder to short was bobbled, but that offensive output was no match for the Red Sox's.
Boston starter Ryan Dempster pitched 5 1/3 innings and gave up two runs on six hits. The Red Sox bullpen pitched the final 3 2/3 innings and allowed just one run, sealing the victory for the veteran right-hander.
"He threw a lot of offspeed. He worked down in the zone really well," Chris Davis said of Dempster. "Mixed it up, and when you're throwing three different pitches for strikes, you're tough to beat. … He's a guy who's been around a long time, a guy who knows how to pitch, and I think after we've had some success against him a little bit, I think he's kind of changed his game plan and used our aggressiveness against us a little bit tonight."
While the loss hurts the Orioles in the standings, Davis said it doesn't paint a big picture and refuted the idea Baltimore took a collective step backward.
"I don't think we took a step back. We got beat," Davis said. "We've been swinging the bats well the last couple of weeks and we're not going to go up every night and put up six or seven runs. Sometimes you just get beat. Stephen Drew had an outstanding night and Dempster threw the ball well, but I don't think we took a step back by any means."
Derek Wetmore is an associate reporter for MLB.com. This story was not subject to the approval of Major League Baseball or its clubs.