Lawrie beginning to round into form at the plate
Lawrie beginning to round into form at the plate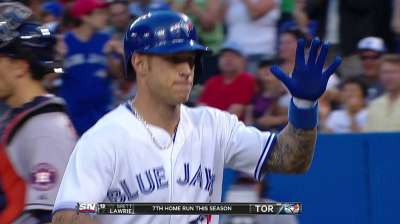 TORONTO -- There's no denying that Brett Lawrie hasn't been himself this season at the plate. A lot of that is a result of being rushed back to the Majors in April when he simply hadn't seen enough at-bats in the Minors.
However, heading into Saturday with 36 at-bats since his second return to the big leagues, manager John Gibbons is starting to see some improvement in his young third baseman.
"He looks more relaxed than his first go around here, where he hurt his ankle," Gibbons said. "He looks confident. But I do, I see a slower guy out there, not intensity-wise, but I see him more relaxed in the box -- and that can only help you."
The Toronto skipper noted that he's seen Lawrie barrel up the ball fairly consistently and make hard contact.
That was evident when Lawrie had a couple of hard hits in Friday's 12-6 victory over the Astros, including a home run into the Blue Jays' bullpen in left field.
"He's got a lightning-quick bat, he can burn you in a hurry," Gibbons said. "You can't make too many mistakes with him."
The area where Gibbons sees the most improvement is in Lawrie's demeanor and mentality when he's in the box.
"When he's standing in the box, getting ready, and the pitcher is getting his signs and starting his delivery, he just seems calm -- more so [than before]. I wouldn't say calm is probably the word, but calmer," Gibbons said. "That's what it looks like to me. He's more relaxed. We all think that'll be a key for him. Like we talked about [on Friday], it's a slow-moving game -- and [you've] got to play it slow sometimes."
Evan Peaslee is an associate reporter for MLB.com. This story was not subject to the approval of Major League Baseball or its clubs.