Struggling Hafner lands on DL with rotator cuff strain
Struggling Hafner lands on DL with rotator cuff strain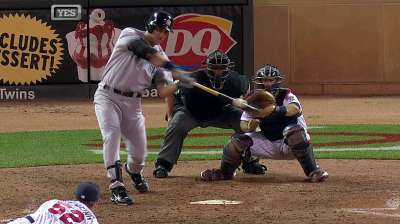 NEW YORK -- Some time after Travis Hafner's last at-bat Friday, Joe Girardi got word that the slumping designated hitter had a sore shoulder. Had Hafner's spot come up in the order again, Girardi said Saturday that he would've used Vernon Wells as a pinch-hitter.
Hafner was out of the Yankees' lineup in their 1-0 loss to the Rays on Saturday after he underwent an MRI exam. The MRI revealed a right rotator cuff strain and Hafner will be placed on the disabled list, according to Girardi.
Derek Jeter, who performed well in a simulated game Saturday, will likely be activated as the corresponding move.
Hafner has struggled for the better part of the last three months. Since batting .318 with six home runs and a 1.104 OPS in April, his average has plummeted to .205, his OPS to .684 and he's clubbed just six more home runs in nearly three months.
In Friday's press conference, largely dedicated to a discussion about new outfielder Alfonso Soriano and questions about Alex Rodriguez, Yankees general manager Brian Cashman took several minutes to discuss the slumping DH, as well.
"I suspect that it's beating him up and that's probably working against him right now that he's not playing as well as he's capable of playing, but we still have confidence," Cashman said. "I know that every time he comes to the plate he's capable of a lot."
Neither Girardi nor Cashman expressed any concern about an injury with Hafner prior to Saturday, though the GM did note that "when he's healthy, he can hit," and Hafner simply hasn't been hitting.
Cashman pointed to certain statistical shifts that seem to signify Hafner's struggles. His 78 strikeouts and 32 walks in 81 games put him on pace for 156 and 64 over 162 games. He averages 134 strikeouts and 82 walks in 162-game seasons over his career. Still, Cashman said the velocity of the ball off his bat remains around his career average.
"We still believe in him," Cashman said, but "we're going to run whoever's the best option for that day unless we come up with better options."
In theory, Hafner's power from the left side of the plate should play well at Yankee Stadium, but if health is a concern, then his value becomes greatly diminished. But until Friday night, there was no reason to think that was an issue.
"He has not complained of his shoulder, he has not been getting treatment really on his shoulder," Girardi said. "So I don't know if it was one swing yesterday or what, but it leads me to believe it was one swing."
David Wilson is an associate reporter for MLB.com. This story was not subject to the approval of Major League Baseball or its clubs.