Keuchel, Veras give lift to Astros' weary bullpen
Keuchel, Veras give lift to Astros' weary bullpen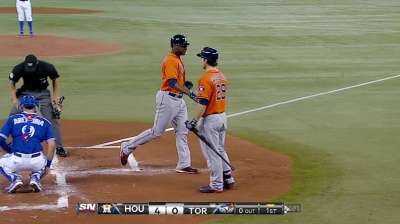 TORONTO -- Astros manager Bo Porter knew the perfect formula to take some pressure off his weary bullpen on Saturday afternoon, but it was going to require some extra effort from starting pitcher Dallas Keuchel and closer Jose Veras.
Porter squeezed as much as he could out of Keuchel for a season-high 7 1/3 innings -- an outing than ended when Blue Jays slugger Jose Bautista walloped a three-run homer to cut the Astros' lead to two. Porter then put his trust in Veras to close the door.
Veras converted his 11th consecutive save opportunity by recording the final five outs of the Astros' 8-6 win over the Blue Jays at Rogers Centre, which snapped a three-game losing streak and enabled the bullpen to breathe a much-needed sigh of relief.
"That pretty much explains the confidence level I have in Veras, to be able to feel confident he's going to be able to get a five-out save," Porter said.
Veras allowed a one-out single to Edwin Encarnacion to put the tying run at the plate before sitting down the next five batters. He hasn't allowed a run in 17 of his last 18 appearances, but had only pitched three times since July 12 because of Houston's inability to hold a lead.
"Keuchel had been throwing an unbelievable game and was there for us," Veras said. "The bullpen had been a little bit tired, and had been pitching a lot. Today was one of those days you don't want to wait for that. You want to come [into the game] and ... be prepared, and I thank God we got it done for the team. The guys have been hitting, so you have to get the job done to win the game."
The Astros jumped on Jays starter Josh Johnson for four runs in the first inning, capped by a three-run homer by Chris Carter. The lead was 4-2 in the fourth, when Justin Maxwell and Matt Dominguez hit back-to-back homers to make it 6-2. For Maxwell, it was his first homer since April 12.
"Those guys that have good stuff, like Josh Johnson, you want to get to them early and you want to stay on him," Porter said. "I did feel like we got the four runs in the first and he started to get into the groove. So it was good offensively we were able to put more runs on the board."
Johnson (1-7) has allowed 16 runs in the first two innings of his last five starts, and failed to pitch at least six innings for the seventh time this season. He has allowed five or more earned runs in five of his 14 starts.
"Just got to make better pitches," Johnson said. "I made some OK pitches, but then made some terrible ones, as well."
Keuchel (5-5), who won for the first time since June 16, took the mound in the eighth eyeing the Astros' first complete game of the year -- despite giving up homers to Mark DeRosa in the second and Colby Rasmus in the fifth.
"The body was getting tired, but it was one of those things adrenaline was taking over," Keuchel said.
Consecutive one-out singles by Jose Reyes and Melky Cabrera set the stage for Bautista, who muscled Keuchel's 100th pitch of the game over the left-field wall for a three-run homer to slice the Astros' lead to 8-6. Porter wasted little time in bringing in Veras.
"I was hoping [Keuchel] was [going to be] able to complete the game," said Porter. "But once you got to that point and Bautista hit a three-run homer, you want to give Veras a little bit of cushion when you're asking him to get five outs. You didn't want to allow Keuchel to let a couple of more guys on base and now [Veras is] coming in with no wiggle room to get five outs."
Veras, the senior member of Houston's young relief corps, couldn't do much, as he watched the Astros blow three leads this week by giving up devastating late-inning home runs -- including in the seventh inning on Friday, when the Jays erupted for eight runs in a 12-6 win.
But Veras said he doesn't need to be pitching to aid his teammates.
"It's not been tough, because in Spring Training I knew this was a young team -- and a lot of things were going to happen and they were going to make a lot of mistakes," said Veras. "It's part of the game, and how are you going to learn from it? It happened to me early in my career when I was young. I made a lot of mistakes.
"They've been through it, and we've been talking and helping them out and trying to find a way to get them out. They're going to be OK. I feel [like I am a big] part of the bullpen, and I feel I can help in any way I can."
The Astros had shortstop Jonathan Villar and second baseman Jose Altuve team up to turn three double plays to end innings, and Villar contributed on the offensive end, too, by going 1-for-3 with a run, two walks and two stolen bases in three tries.
"It was nice to bounce back after the game last night, when we were leading the whole game until the seventh inning," Carter said. "Hats off to Keuchel, and we gave him the run support he needed."
Brian McTaggart is reporter for MLB.com and writes an MLBlog, Tag's Lines. Follow @brianmctaggart on Twitter. This story was not subject to the approval of Major League Baseball or its clubs.