Cubs rally in ninth with help from Giants' error
Cubs rally in ninth with help from Giants' error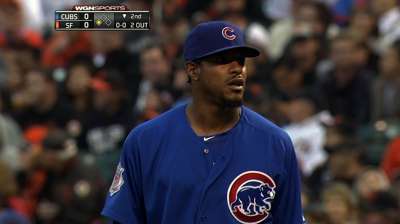 SAN FRANCISCO -- Before Friday's game, Cubs manager Dale Sveum talked about how Anthony Rizzo needed to deliver with runners on. The first baseman did that in the ninth, with an assist from Giants first baseman Brandon Belt.
Two runs scored on an error by Belt with two outs in the ninth to give the Cubs a 3-2 victory over the Giants.
Trailing, 2-1, against Sergio Romo, pinch-hitter Julio Borbon singled and pinch-hitter Dioner Navarro walked. One out later, Junior Lake reached on a fielder's choice, forcing Navarro at second. Rizzo then lined the ball to right, between Belt's legs, for an error. Borbon and Lake scored.
"It's just a routine ground ball," Belt said. "I did what I've always done in that situation. ... That wasn't the only mistake I made. Looking back on it, it cost us the game."
The other blip came in the seventh. More on that later.
"[Rizzo] had a good at-bat and hit a missile down the line," Sveum said. "We were fortunate it went through [Belt's] legs. It was a good at-bat and he hit the ball as hard as you're going to hit it. We had some good at-bats that last inning."
The Cubs picked up their 24th win on the road, one more than they won all last season away from Wrigley Field.
"Yes," Sveum said emphatically. "And a lot more west of the Mississippi."
The Cubs were 1-19 on the road against National League West teams last year and now have won four games away from Wrigley against the division so far this year.
Edwin Jackson did not get a decision but continued his much improved second half. He struck out five and did not walk a batter in the first six innings. Second baseman Darwin Barney made a great diving stop on Buster Posey's hard-hit grounder and threw him out to begin the seventh. Jackson then walked Pablo Sandoval, and Hunter Pence doubled down the left-field line.
Belt was intentionally walked to load the bases, and Jeff Francoeur blooped a single to right, driving in Sandoval and Pence. That's when Belt's other mistake occurred. He thought about scoring, but Jackson, who had his back to the action on the field, got a break as the throw went past him, bounced off the wall and back to the pitcher, who made the tag.
"Jackson wasn't even looking," Belt said. "He had no idea where the ball was."
Sometimes, things do work in the Cubs' favor.
"I think he was frustrated," Sveum said of Jackson. "The ball fell in, and he might have lost concentration there. You saw where the ball was and he ended up making the play."
Catcher Welington Castillo yelled at his pitcher to get his attention but probably couldn't be heard over the sellout crowd at AT&T Park. What happened?
"I stopped to not run into Sandoval," Jackson said. "When I stopped to not run into him, I went around him. By the time I could turn around, the ball was coming at me and right in front of me. Sometimes the ball bounces in your favor, and sometimes it doesn't. ... It's a crazy game. That was something that worked in our favor."
It's not a good idea to run into Sandoval.
"He's a big man," Jackson said. "Nobody wants that collision at home like that."
Jackson now has a 3.42 ERA in his last nine starts and has won three of his last five in which he's posted a 2.51 ERA.
"Statistically, I've always been a second-half guy," Jackson said, "but sometimes the ball rolls in your favor, sometimes it doesn't. I don't feel like I've made any huge changes. I'm just trying to attack the strike zone."
He's kept the defense involved, gotten in a better groove with Castillo and pitched with more conviction. Sveum said they've noticed better fastball command. It also helps when ground balls are being snatched by infielders and not finding holes.
"At the beginning, we saw 88 to 90 [mph] in the first couple innings [by Jackson], and now we're seeing 93, 94 from the get-go," he said.
The Cubs started the game well as David DeJesus singled and Lake reached on an error by Sandoval. But Matt Cain, who has struggled at home, struck out the next three batters to snuff the threat.
The Cubs went 1-for-13 with runners in scoring position Thursday against the Arizona Diamondbacks. Losing Alfonso Soriano won't help those numbers. Sveum is hoping Rizzo, who leads the team with 58 RBIs, can pick up the slack.
"I think he's at that stage where he understands people's jobs in the 3-4-5 hole," Sveum said. "Some people get carried away thinking about the home runs. That's your job, driving runs in and taking walks and keeping the line moving."
The Cubs were 0-for-4 with runners in scoring position Friday before Nate Schierholtz doubled with one out in the sixth and Starlin Castro followed with an RBI single. For the record, they went 1-for-11 with RISP in the game.
As long as the pitching continues, they have a chance. The Cubs lost starters Scott Feldman and Matt Garza, both traded this month. Jackson doesn't think the remaining pitchers need to do more to make up for their absence.
"We just have to continue doing what we've been doing," Jackson said. "Pretty much, I was the only one who started out slow. The starters have been doing a great job the whole season. i was the weakest link earlier. Everybody else, they were pitching great, and they're still pitching great. When you have pitching and great defense, everything will come around."
Carrie Muskat is a reporter for MLB.com. She writes a blog, Muskat Ramblings, and you can follow her on Twitter @CarrieMuskat. This story was not subject to the approval of Major League Baseball or its clubs.