A's all-around efforts secure Colon's 14th win
A's all-around efforts secure Colon's 14th win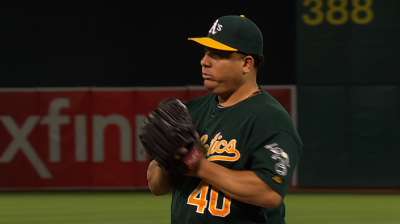 OAKLAND -- Here's a list of people surprised by center fielder Coco Crisp's outfield assist in the third inning of the A's 6-4 win over the Angels on Friday.
A's manager Bob Melvin, who said Crisp's arm was the strongest he's seen all year.
A's starter Bartolo Colon: "He surprised the whole world with that throw."
Crisp, who threw out Mike Trout trying to advance from first base on a flyout, said: "I don't really throw too many people out. That's not my forte. People don't say, 'He's here because he throws out people.' It does feel good to make a play, though, especially when it's a little unexpected."
The consensus around the Oakland's locker room following the win pointed to Crisp's assist, his first since Sept. 12, as the key to the A's victory.
"It was a game changer," catcher Stephen Vogt said. "A huge turn of events."
From a micro perspective, Trout's absence from the basepaths in the third proved crucial, with Josh Hamilton following the play with a double to right field. But plays like this, at least in Melvin's eyes, can spark a team "equally as much as you do sometimes from an offensive play."
Oakland received production from numerous unexpected areas. The A's 3-4-5 hitters went a combined 1-for-11 at the plate, yet the A's accumulated 10 hits -- the most in a game since they had 15 against Kansas City on July 7.
Jed Lowrie went 3-for-4 with a home run and three RBIs, his fifth game of three-plus RBIs this season, in a welcomed return to the form he's shown for much of the season.
"It's almost against the grain for him to struggle for a period of time," Melvin said. "He had good swings all night tonight. This was, for us, a pretty good offensive night compared to what we've been doing recently, so he led the way and got us going. Guys kind of fed off what he brought to the game early on."
And then there was Colon, who tossed six innings and allowed just two runs for his 14th win of the season to tie for the Major League lead. The 40-year-old wonder threw six or more innings and allowed three or fewer runs for the 14th straight start, tying the longest streak by an A's pitcher since 1916.
"It feels like every time he goes out there, we're in a very good position to get the win," Melvin said. "What you look for in a starter is someone who can give you a chance to win every time and not only does he give us that, he gives us the confidence that we are going to win every time, so he takes it a little further for us."
He overcame Trout's two-run home run in the first inning and never looked back, exiting in the sixth after 96 pitches.
"I felt we had good at-bats against him," Angels manager Mike Scioscia said. "He's going to throw strikes, and he did, he had good movement. I thought we hit some balls hard and he made some pitches to get out of some trouble."
In the sixth, Vogt, playing in his first game since he was recalled from Triple-A Sacramento, belted a two-run blast over the right-field wall.
Jerry Blevins struggled in the ninth inning, walking the first two runners he faced and was replaced in favor of closer Grant Balfour. Balfour then gave up a single to Albert Pujols down the left-field line that allowed the two runners to cross the plate, but he responded by striking out Josh Hamilton to secure his first save since his franchise-best streak of 44 straight was snapped on Tuesday.
"I'd be lying if I said I thought he'd be 14-3 right now," Melvin said of Colon. "I probably couldn't say that about anybody. With starters sometimes, the win-loss record sometimes isn't really indicative of how good he is, but to be able to be 14-3 and give us as many quality starts and shutouts, I have a ton of confidence in him."
Jeff Kirshman is an associate reporter for MLB.com. This story was not subject to the approval of Major League Baseball or its clubs.