Peralta's rare struggles end in Brewers' loss
Peralta's rare struggles end in Brewers' loss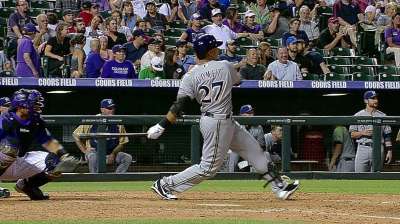 DENVER -- Wily Peralta's first poor outing in a month came at the worst possible time for the reeling Brewers.
Burned by pair of four-run innings, Peralta put the Brewers' makeshift offense in a hole it couldn't escape. An 8-3 loss to the Rockies at Coors Field on Friday was the Brewers' fourth defeat in five games since losing Ryan Braun to a suspension.
Peralta entered the night 2-0 with a 0.31 ERA -- that's one earned run in 29 1/3 innings -- in his first four July starts, including a three-hit shutout of the Reds on July 9 that was the Brewers' first complete game in more than two years. But he lasted only 3 2/3 innings against the Rockies and allowed eight runs (five earned) on seven hits, three walks and a hit batsman.
Brewers manager Ron Roenicke had another number in mind.
"One hard-hit ball," Roenicke said.
That was Todd Helton's single after Peralta issued a leadoff walk in the decisive second inning. Six of the seven hits against Peralta were singles, two of which did not leave the infield. The only extra-base hit belonged to the opposing pitcher, Tyler Chatwood, a good hitter who bounced a double just inside of third base for two RBIs.
The Brewers called it buzzard's luck. Chatwood called it something else.
"Well-placed, I'd say," he said.
The Rockies scored four runs in that inning -- it could have been worse if not for a trio of defensive gems by shortstop Jean Segura -- and four more in the fourth. Three of Colorado's fourth-inning runs were unearned because of an error charged to third baseman Yuniesky Betancourt, who was straddling the bag on a would-be force play early in the inning.
The last Rockies run charged to Peralta scored on a soft Helton single against newly promoted Brewers reliever Rob Wooten, who was making his Major League debut.
"It's just the way the game goes sometimes," Roenicke said, "but [Peralta] wasn't on his game. His command was off today, but even if it was off, if he gets any breaks, he doesn't give up that many runs. ... In this ballpark, you open it up when you walk people."
Peralta agreed that it was far from his best outing. His slider was sharp in the bullpen and in the first inning, as he began the game with what would prove to be his only two strikeouts.
When the slider began to escape him in the second inning, trouble followed. Peralta tried a changeup instead, with no luck. So he was forced to rely on his hard, heavy sinker, a workable plan when he locates that pitch low in the zone.
On Friday, there were "a lot of fastballs up in the zone. The starts before, I was doing good, because I was able to keep the fastballs low in the strike zone. So today, I didn't have my slider going, so I left a lot of fastballs up in the zone."
Chatwood set a career high with 11 strikeouts, while limiting the Brewers to two runs on six hits in seven innings. The Brewers didn't find their way onto the scoreboard until the sixth, when Norichika Aoki delivered an RBI single and scored on a Logan Schafer groundout.
"I was with [Chatwood] a little bit with the Angels, and I saw him some," said Roenicke, a former Angels coach. "His fastball is the biggest difference. Then, his fastball was really straight. He always had a great arm, always was 95 [mph], but really straight. He's got really nice movement on his ball now."
Carlos Gomez added a long home run in the ninth inning off Rockies reliever Manny Corpas.
Roenicke has talked a lot in recent days about the importance of the Brewers -- playing without Braun and the injured Aramis Ramirez and Corey Hart -- cobbling together quality at-bats. Roenicke awarded his team a passing grade and praised Chatwood.
The right-hander has allowed two runs or fewer in 12 of his 14 starts this season.
"His breaking ball was filthy," Rockies manager Walt Weiss said. "His curveball was really sharp, fastball was explosive and down. Got the slider that he's got a lot of confidence in now. So he was really good."
Adam McCalvy is a reporter for MLB.com. Read his blog, Brew Beat, and follow him on Twitter at @AdamMcCalvy. This story was not subject to the approval of Major League Baseball or its clubs.