Minor delivers impressive start as Braves take opener
Minor delivers impressive start as Braves take opener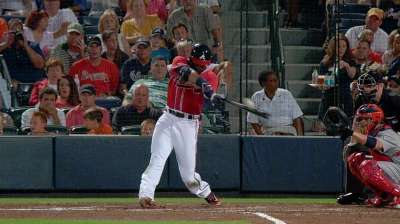 ATLANTA -- The Braves are still evaluating how their starting rotation will look without Tim Hudson to serve as a steadying presence down the stretch, but Mike Minor's dominant performance on Friday night may have provided some clarity.
In front of a sold out Turner Field crowd, Minor tightened his grip on the title of Atlanta's de facto No. 1 starter by allowing less than four runs for a fourth consecutive outing, and the Braves held on to an early lead to take Friday night's series opener, 4-1, in a battle of first-place teams.
Given the electric venue, the Braves' injury-riddled week and the quality of opponent, Minor's performance had the makings of a coronation, the team's big-game pitcher of the future rising to the moment in the wake of a demoralizing injury to one of the longest-tenured and most well-liked Braves of the past decade. But Minor wasn't biting at the mention of becoming the staff's next ace -- he was just taking the mound when called upon.
"I feel like that's not really my role," Minor said. "I go out there every fifth day and just try to pitch. With [Hudson] going down, that was our ace, that was our best guy. We just need everybody else to step it up a little bit."
Minor's RBI single off St. Louis ace Adam Wainwright gave the Braves the lead for good in the second inning, and he turned in his third straight outing of seven innings or longer to help that slim lead stand up. Minor allowed one run on four hits over seven innings to pick up his 10th victory of the season.
"Mike's been great for us all season," right fielder Jason Heyward said. "He's battled, he's been a great competitor -- I feel like our whole staff has. Everybody's kind of had a touch of good luck and bad luck at times, but I'm glad for Mike to come out tonight and throw against a really good offense, a really good team, and he got some run support, got some defense."
St. Louis catcher Yadier Molina capitalized on one of Minor's early mistakes, ripping the first pitch he saw, a belt-high changeup, out to center field for his eighth home run of the year to give the Cardinals an early 1-0 lead in the top of the second inning.
"It's kind of one of those things where the first inning wasn't as great as I'd like it to be," Minor said. "The first hitter, I went to three balls and it wasn't really going that well, but after that, I kind of tuned it up."
Brian McCann got things started for the Braves in the bottom half of the inning with a double to right field and came around to score on Chris Johnson's RBI single into left. Johnson has recorded a hit in all but two of his 21 games played in July, and his 2-for-3 night on Friday raised his batting average to .345 this month.
Then Minor swung at the first pitch he saw from Wainwright and found a hole in the left side to record his fifth RBI this season. While Minor proceeded to turn the screws on the St. Louis offense, retiring 10 straight batters at one point, Heyward made it a 3-1 game with an opposite-field solo shot in the fifth inning, his first home run since July 6.
"I think I just have to tip my hat," Wainwright said. "I think they just had a great approach from the first pitch on. They took some great at-bats against me, worked some counts. They didn't get pull-happy out there but were just happy to hit the ball to right field as right-handers. They hit some tough pitches and worked some tough at-bats."
Heyward made his defensive presence felt in his first game back in right field with a handful of hard-charging catches, including a diving snag of a line drive off the bat of David Freese in the fifth inning.
"This team, they have a really good approach in going the other way, and that's one thing I do look forward to on nights like that because I know the ball's going to be hit my way," Heyward said. "You just try and get good jumps and assume counts and assume the hitters up there in their approaches and use it to my advantage."
The Braves padded their lead in the seventh thanks to a rare error from the team that has committed the fewest in the National League. Cardinals shortstop Pete Kozma threw a potential double-play ball low and wide of Matt Carpenter at second base, and the ball bounced into right field and rolled all the way to foul territory, allowing Johnson to score from first easily.
Minor now leads the Atlanta rotation in innings pitched, ERA, fewest hits allowed, strikeouts and wins. His most recent gem came against a potential playoff opponent that sent its Cy Young candidate to the mound on Friday night and proved quite the confidence boost for the banged-up Braves, who have yet to win consecutive games since the All-Star break. Still, the Braves will hold off on the superlatives with the hope that Minor's best is yet to come in the second half.
"Mike Minor doesn't have to do anything," Braves manager Fredi Gonzalez said. "He's been this good for a while. We saw him growing up and getting better this time last year, you look back at some of his starts. Let's let him dictate his own career, and let's not start putting labels or anything of that kind of stuff yet, but he's a darn good left-handed pitcher right now for us."
Eric Single is an associate reporter for MLB.com. This story was not subject to the approval of Major League Baseball or its clubs.