Locke limits damage, but Pirates blanked by Fish
Locke limits damage, but Pirates blanked by Fish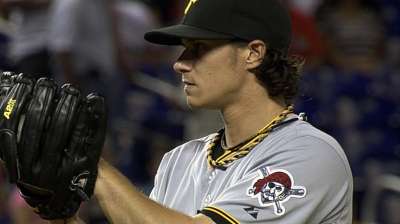 MIAMI -- Even though Jeff Locke did not have his best stuff on Friday night, he gave Pittsburgh another ace-like effort.
Locke dueled Henderson Alvarez back and forth for 5 1/2 scoreless innings before finally budging in the bottom of the sixth. Locke budged again in the seventh, surrendering a solo homer to Giancarlo Stanton.
Although the All-Star southpaw allowed only two runs in 6 2/3 innings, they proved two runs too many in Pittsburgh's 2-0 loss to Miami in front of 18,718 at Marlins Park. The Pirates have dropped back-to-back contests.
"You walk out and that line's over and you gave up two runs in 6 2/3 innings, that's nothing to drop your head about," Pittsburgh manager Clint Hurdle said. "He competed. We just didn't score runs."
Said Marlins manager Mike Redmond of Locke: "That's a good pitcher. He might be the best left-handed pitcher we've seen this year, as far as pounding the strike zone."
Locke gave up a season-high-tying eight hits, and his six walks were the second most he has issued in a start this season. However, the lack of command did not stop the lefty from striking out a season-high nine batters.
"I felt about the way it looked -- kind of all over the place," Locke said. "But I felt good, which resulted in some good pitches that I threw.
"At the same time, though, I was nibbling a little bit too much, almost like you don't want to catch too much of the plate and just kind of like being picky out there -- kind of sloppy. But I felt really good. Just the command wasn't there again tonight."
Despite putting 14 runners on base, Locke minimized the damage, stranding 10 runners in all. The All-Star has allowed three earned runs or fewer in 17 straight starts.
"Knowing that you got guys behind you that are going to pick the ball up for you," Locke said in explaining how he works out of jams. "For me, really, it's just trusting those guys behind me. I've got a lot of trust in [catcher Russell Martin] back there, too. And [Michael McKenry] when he's there.
"We all work together. They know I can make pitches, and I know they can make plays. If everybody believes that at the same time, we know we're going to strand some runners."
The defense rewarded Locke's trust in an early pinch in the bottom of the second. With two outs and Jeff Mathis on first, Alvarez helped his own cause with a double to left field that carried to the warning track.
But Starling Marte -- one year removed from his MLB debut -- threw to Neil Walker, who fired to Martin, who held on in a collision with Mathis, preserving the scoreless tie.
Even though Pittsburgh was solid defensively, both of Miami's runs came on plays that were tough to field.
With the bases loaded in the sixth, Placido Polanco grounded to third base too softly for Pedro Alvarez to make a play at any base. And Stanton's insurance homer was way over Marte's head.
In a pitchers' duel, the Marlins got the big hits. The Pirates did not.
"You know when you go against the caliber of team like the Pirates are and the way they've been playing that this is going to be a tight game," Redmond said. "You've got to try to go for it when you can go for it."
While the Bucs helped Locke in the field, they could not do much to support their pitcher at the plate.
The Pirates tallied only five hits -- one of which was a third-inning single by Jordy Mercer, who extended his hitting streak to a career-best 11 games.
Pittsburgh had early scoring chances against Alvarez, putting the leadoff runner on in the second and third innings. But both times, the Pirates came up empty.
Alvarez silenced Pittsburgh after Mercer's leadoff single in the third, retiring the next 10 batters on only 35 pitches.
The 23-year-old gave up only two hits and walked one in six strong innings. He needed only 72 pitches to notch his second straight quality start.
The Pirates made two final pushes in the eighth and the ninth once Alvarez left the game, putting runners on third in both innings.
Miami native Gaby Sanchez was stranded at third after a one-out double in the eighth, and Andrew McCutchen ended the game 90 feet from home after he and Alvarez notched consecutive two-out singles in the ninth.
Pinch-hitter Jose Tabata grounded out to second to end the rally, dropping Pittsburgh to 0-for-6 with runners in scoring position.
"We still didn't come through with one," Hurdle said. "We've got to push one of those across."
Joe Morgan is an associate reporter for MLB.com. This story was not subject to the approval of Major League Baseball or its clubs.