Marlins do enough, back Alvarez in shutout of Bucs
Marlins do enough, back Alvarez in shutout of Bucs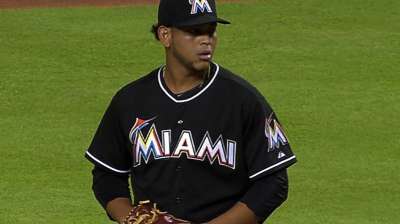 MIAMI -- A little bit of run support is going a long way with how the Marlins are pitching.
Henderson Alvarez threw six shutout innings, while Giancarlo Stanton clubbed a solo home run, and the Marlins defeated the Pirates, 2-0, on Friday night at Marlins Park.
"I'm excited about this win and setting the tone for the rest of the series," Alvarez said in Spanish.
Alvarez, A.J. Ramos, Mike Dunn, Chad Qualls and Steve Cishek combined on the five-hitter and Miami's third shutout of the season. The Marlins have won two straight and four of their last five, and they beat the Pirates at what they do best -- pitch.
The task wasn't an easy one. Pittsburgh All-Star lefty Jeff Locke (9-3) gave up two runs on eight hits with six walks and nine strikeouts in 6 2/3 innings.
"I was happy with the way we came out," Marlins manager Mike Redmond said. "That's a good pitcher. He might be the best left-handed pitcher we've seen this year, as far as pounding the strike zone. He was really able to execute that pitch down and in to our right-handed hitters. You can tell why he's so tough on righties, able to execute that pitch."
The Marlins opened a 10-game homestand with yet another impressive pitching performance. Miami has limited the opposition to three runs or fewer in six straight games.
Alvarez struck out five while scattering two hits, and he won his first game since being traded to the Marlins from Toronto last November. The right-hander has thrown 13 shutout innings in his last two starts.
Another encouraging sign was that Alvarez was able to reach back and blow a 98-mph fastball by former Miami first baseman Gaby Sanchez for a strikeout in the second inning.
Alvarez opened the season on the disabled list with right shoulder inflammation, and the 98 mph is a high since his return.
"I felt pretty good today, especially in the bullpen," Alvarez said. "I haven't thrown that hard this year."
The quality of Alvarez's pure stuff was more than the Pirates expected.
"We watched a lot of tape on this young man, the four starts," Pittsburgh manager Clint Hurdle said. "What we saw was better than anything we saw on tape. He threw all his pitches. He threw strikes and he was very aggressive."
The game featured the first career hit for outfield prospect Jake Marisnick, called up from Double-A on Tuesday.
"I think he's going to be able to sleep tonight," Redmond quipped. "I told him, 'Me too. I haven't slept in three days, trying to figure out how to get you a hit.'
"I know that was a big relief and a big hit at that time. He's got that ball now, so he's official. I'm happy for him. He's a great kid, and he plays his butt off out there. I'm glad he got that over with."
Stanton's towering blast, estimated at 397 feet, was more majestic because of its flight path over total distance traveled. It was a solo shot in the seventh inning off Locke, who had walked Stanton twice and allowed a single.
The blast, Stanton's 12th, came on a 3-1 pitch, and it gave Miami a 2-0 lead.
"I kind of got the sense that they were like, 'All right, he hasn't seen anything all day, let's see what he can do with it,'" Stanton said. "You just have to make sure you take advantage of that and get the barrel to it.
"One extra run against a team like that is big. They didn't get too many hits all game, but they had the top of the lineup coming up."
The Marlins were able to break through for a run in the sixth inning off Locke, who got in a bases-loaded jam because he walked two. Donovan Solano walked to open the inning, and Marisnick slapped a single to center, snapping an 0-for-14 slide to open his big league career. Jeff Mathis walked to fill the bases.
Placido Polanco, pinch-hitting, topped an infield single to third base, and Pedro Alvarez had no play. Solano scored and Polanco picked up the RBI.
"We got our shot. We had one shot. We went for it," Redmond said of why he pinch-hit Polanco for Alvarez. "It wasn't pretty, but it worked. We were able to hang on.
"Stanton had a big hit too. You know when you go against the caliber of team like the Pirates are, and the way they've been playing, that this is going to be a tight game. You've got to try to go for it when you can go for it."
In the second inning, the Marlins were nearly able to break through for a run on what would have been Alvarez's first career RBI.
With two outs, Mathis walked. Alvarez made things interesting by driving the ball over the head of left fielder Starling Marte for a double. Since there were two outs, Mathis was waved home by third-base coach Joe Espada.
But the Pirates executed the relay perfectly as Marte's throw went to Neil Walker, who was backing up behind shortstop Jordy Mercer. Walker's throw home was in plenty of time for Russell Martin to secure the ball and brace for a collision, which occurred as Mathis rammed into the Pirates catcher. Martin held on the third out.
"Russell did a good job getting in front of the plate, blocking it and getting in a good position," Mathis said. "I just tried to do what I could to get to the plate."
Joe Frisaro is a reporter for MLB.com. He writes a blog, called The Fish Pond. Follow him on Twitter @JoeFrisaro. This story was not subject to the approval of Major League Baseball or its clubs.