Rangers force extras but fall to Tribe in 11th
Rangers force extras but fall to Tribe in 11th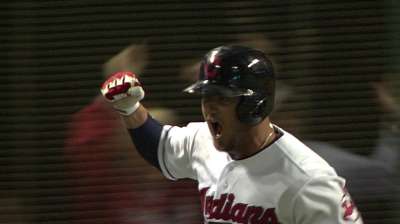 CLEVELAND -- The situation, after leadoff singles by Asdrubal Cabrera and Carlos Santana, called for a sacrifice bunt. The Rangers were expecting one because they had their bunt defense on with third baseman Adrian Beltre and first baseman Mitch Moreland ready to charge on the corners.
Indians manager Terry Francona, with the score tied at 8 in the 11th inning, did have the bunt on for Ryan Raburn, but then took it off after the first two pitches and a 1-1 count.
"They were so aggressive," Francona said. "They had infielders moving and we're ahead in the count. Anything but a double play. When infielders are moving and we have a good hitter who can swing the bat, just rather than force the issue ... it just made sense to me to let him swing."
Rangers reliever Jason Frasor was on the mound in his third inning of work because Tanner Scheppers was unavailable with a bruised and cut left eye. Frasor, after missing with a fastball that made it 2-1, wasn't too concerned if Raburn was bunting or not.
"I got a sign for a slider," Frasor said. "I threw the heck out of it. I didn't know if he was bunting or not, but I put it right down the middle of the plate. I put it on a tee for him."
Raburn made him pay for it, smashing a three-run home run deep over the left-field wall to give the Indians an 11-8 victory over the Rangers at Progressive Field on Friday night. The Rangers trailed 7-1 after four innings before coming back and finally tying the score in the eighth. But they still finished with their sixth loss in eight games since the All-Star break.
"I liked the way we battled," Rangers manager Ron Washington said. "We could have easily given up and we didn't. We grind and we battle and we put ourselves in position. They just had the last say-so."
The Rangers are 1-7 in extra-inning games this season. The Rangers also lost for the first time this season when scoring six or more runs. They had been 29-0 in those games.
"They all hurt, but I thought we played better offensively tonight," catcher A.J. Pierzynski said. "We had chances, the bullpen did a great job shutting it down and give us a chance to win. Unfortunately it didn't work out, but if we play with that effort, we'll be fine."
Frasor was the Rangers' fifth pitcher on the night as starter Martin Perez couldn't get through the fourth inning. Frasor retired the side in order in the ninth and 10th before going back out for the 11th. In 562 Major League appearances prior to Friday night, Frasor had pitched more than two innings only three times. The previous was on May 30, 2007.
But Frasor had thrown just 19 pitches in the first two innings, and that is nothing out of the ordinary for him.
"I felt good," Frasor said. "I had good stuff. The first two base hits were all-right pitches. I felt OK. If I felt bad, I wouldn't have gone out there."
Washington had already used long reliever Ross Wolf, who pitched three innings after Perez's early departure. That got the Rangers through the sixth. Robbie Ross and Joakim Soria got the Rangers through the eighth. After Frasor, Washington had Neal Cotts and Joe Nathan left in the bullpen.
The details of Scheppers' injury are not known, but he was unavailable to pitch on Friday.
"If we could have gotten another inning out of Frasor then I could have gone to the bullpen again," Washington said. "But if I go to the bullpen before that, I run out of pitchers."
Perez put the pressure on the bullpen by allowing seven runs in three-plus innings. He allowed eight hits, walked two and struck out three, and has a 9.00 ERA in his last three starts. The Rangers have lost all three.
"He just didn't have command of his fastball," Washington said. "He had a good changeup and threw some good breaking balls, but he didn't have command of his fastball. Every time he threw his fastball it was in the middle of the plate."
Perez left trailing, 7-1, but the Rangers mounted a comeback.
A double by Leonys Martin and a single by Ian Kinsler brought a run home in the fifth against Indians starter Corey Kluber. Nelson Cruz hit his 24th home run to lead off the sixth, and the Rangers added another run when Jeff Baker grounded into a double play with runners on the corners.
That made it 7-4, but the Indians got one run in the sixth off Wolf on three straight singles by Nick Swisher, Jason Kipnis and Cabrera. However, the Rangers didn't stop coming against the Indians' bullpen. Kinsler had a sacrifice fly and Engel Beltre had an RBI single in the seventh. Kinsler then tied it up with a two-run single in the eighth.
But the Rangers couldn't get the lead so that Nathan could get into the game.
"We thought we were going to win it after it was tied," Cruz said. "We had some momentum going. But the thing is, the way we played, we showed a lot of heart. We can take that and build on it moving forward."
T.R. Sullivan is a reporter for MLB.com. Read his blog, Postcards from Elysian Fields, and follow him on Twitter @Sullivan_Ranger. This story was not subject to the approval of Major League Baseball or its clubs.