Decisions on lefties prove right behind strong Fister
Decisions on lefties prove right behind strong Fister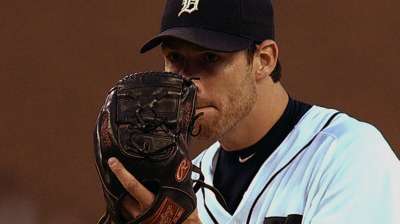 DETROIT -- Tigers manager Jim Leyland had to sit injured Miguel Cabrera and Torii Hunter. He had a choice whether to play Ramon Santiago and Alex Avila against a left-handed starter.
It wasn't just any lefty; it was Philly's Cole Hamels. But then, it wasn't just any starter they were trying to support, either.
Doug Fister showed every sign of another second-half roll in this pitching duel, and Leyland's decisions worked in a 2-1 win against the Phillies on Friday night at Comerica Park.
"Both pitchers were very good. We just got the big hit when we needed it," Leyland said after Avila's two-run double provided the difference.
They actually got two big hits. It's their sources that were the surprise.
Leyland did not have a lineup posted a few hours before the game. He was waiting on injury updates on Cabrera's sore left hip flexor and Hunter's sore left Achilles. Cabrera was out soon enough, his hip not allowing him to do much more than take batting practice. Hunter was briefly in the lineup, then scratched soon after batting practice began.
The third change had nothing to do with health. Don Kelly was ready to go at third base, but the revised lineup the Tigers submitted replaced him with Santiago. The initial assumption was that Leyland wanted his lone healthy utility player on the bench to be able to play as many positions as possible.
The thought on Leyland's part, he admitted afterward, was different.
"I just decided I wanted to take a look at him [batting] right-handed," Leyland said. "He's struggled, but I said, 'Well, let's turn him around.' [Hitting coach Lloyd McClendon] thinks that he swings pretty good right-handed. Kelly's been playing against lefties and doing a good job, by the way, but I thought, 'Let's give Santi a shot.'"
The switch-hitting Santiago was 2-for-18 (.111) off left-handed pitching entering the day, coming off an 8-for-57 (.140) performance off southpaws last year. Kelly, a left-handed hitter, is 7-for-28 with two doubles against lefties this year.
Avila's struggles off lefties are better-known, 1-for-39 against them before an RBI single off White Sox starter John Danks on Wednesday in Chicago.
Take away Cabrera and Hunter, and the numbers from the bottom third of the order weren't going to be imposing regardless. With Santiago and Avila following rookie second baseman Hernan Perez, the bottom third entered Friday batting .183 (60-for-328) overall, and 9-for-80 against lefties -- five of those hits from Perez.
That was the trio waiting for Hamels, protecting a 1-0 lead, once he retired Jhonny Peralta to lead off the fifth inning. He fell behind Perez, brought the count back to full, then couldn't get him chase to a changeup in the dirt for a one-out walk.
"You've got to challenge him," Hamels said. "I didn't do that. That was the complete swing of the game right there."
Hamels faced Santiago in the second inning with runners at the corners and one out, and escaped with a strikeout-throwout double play, Santiago watching a full-count fastball over the plate for the third strike. Santiago wasn't going to get caught watching the same pitch to start his fifth-inning at-bat.
"With him, you have to look for the fastball early and try to put a good swing on it," Santiago said.
Santiago jumped it so aggressively he nearly pulled it foul, a far cry from the late swings that plagued him early in the year. He kept this one just inside the left-field line, doubling Perez to third.
With Avila and a struggling Austin Jackson due up, Hamels still had a path out. After firing back-to-back fastballs past Avila up and outside, the path was pretty wide. That's when Hamels made his mistake.
"He threw a changeup, hung it," Avila said. "It was up a little bit and I put a good swing on it."
Avila sent it into the gap and cleared the bases, turning a 1-0 deficit into a 2-1 game.
"I definitely made a Minor League mistake," Hamels said. "That's the whole game right there. I'd like to claim it's uncharacteristic, but sometimes you do it. You just can't do it in this sort of situation in a close game."
Hamels has had a few of those. The Phillies have scored two runs or fewer in nine of his 22 starts, and his average of 3.49 runs of support per nine innings ranked 82nd out of 91 qualifying Major League starters entering Friday.
He won't get any sympathy from Fister, 25th on that list at 5.31, but owner of four runs of support over four quality starts of seven innings or more earlier this year. He has made a mantra out of pitching every game like it's scoreless, and this one wasn't far off.
For four-plus innings, his downfall was his defense, a Perez error putting a leadoff runner on for Michael Young's third-inning RBI single. He retired 17 of his final 19 batters from there.
"I feel like every pitch was important," Fister said. "That's the way I approach everything. They have such a tremendous lineup."
With eight innings of three-hit ball, a walk and six strikeouts, Fister (9-5) improved to 3-0 with a 1.35 ERA in three starts since the All-Star break. He's 19-5 in the second half since joining the Tigers two years ago, a huge reason why the Tigers have rallied down the stretch to capture the last two American League Central titles.
It's early, but he's looking that way again. His command is better, his pitches crisper. Avila called Fister's cutter as a complement to his curveball, allowing him to pitch inside to left-handed hitters.
"Everybody knows he's a workhorse in the second half, and [tonight] proves it," said Joaquin Benoit, who stranded Jimmy Rollins on third for his 10th save in as many opportunities, four of them in one-run games.
Bobby Nightengale is an associate reporter for MLB.com. This story was not subject to the approval of Major League Baseball or its clubs.