Limping Kemp hopeful for Aug. 6 return from DL
Limping Kemp hopeful for Aug. 6 return from DL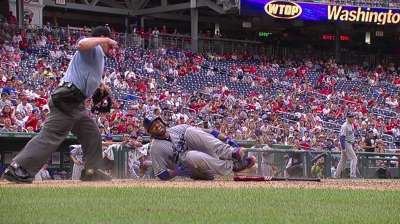 LOS ANGELES -- Matt Kemp told the Dodgers his sprained left ankle is feeling better, but the center fielder still had a noticeable limp on Friday and has not yet resumed baseball-related activities.
The Dodgers remain optimistic Kemp will be ready to play when he's eligible to come off the disabled list Aug. 6 against the Cardinals.
"At this point, I'm just kind of hopeful that he's going to be ready to roll in 15 days," manager Don Mattingly said. "He's still limping a little bit. Yesterday, he came in and said he felt really good."
Kemp sprained his ankle on an awkward slide into home in the ninth inning of Sunday's 9-2 win against the Nationals, his first game back from a DL stint with a right shoulder injury. He blamed himself for the injury because he was jogging home from third on Carl Crawford's grounder to first with the bases loaded and two outs and was not expecting a play at the plate.
The Dodgers hope Kemp can learn from the incident.
"Everything you do as a player you want to learn from," Mattingly said. "You make mistakes on the field and you want guys to learn from that and get better from that. Matt doesn't want to do that again. So, you'd like to think that makes him a little bit better."
Austin Laymance is an associate reporter for MLB.com. This story was not subject to the approval of Major League Baseball or its clubs.