Schafer, B.J. Upton test out leg injuries
Schafer, B.J. Upton test out leg injuries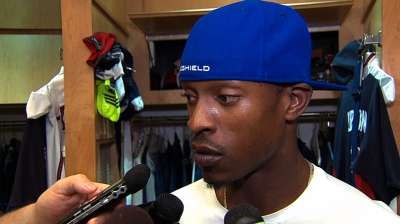 ATLANTA -- Outfielders B.J. Upton and Jordan Schafer both felt comfortable enough to take the field before Friday's game and test out their respective leg injuries. While Schafer is still a few weeks away from being able to return from an intraosseous stress fracture in his ankle, B.J. Upton could be back to patrolling center field as early as next week after testing his strained right adductor muscle during an encouraging workout on Friday afternoon.
"I did some sprints today, like really ran, and then agility, like cutting to see how it felt, and it felt pretty good," Upton said. "Overall, it's night and day from what it was a couple weeks ago, even a couple days ago. It's coming along well, and we'll just see."
Upton was optimistic about heading out on a rehab assignment early next week and possibly rejoining the team at the tail end of its current seven-game homestand. On Sunday, he will be eligible to be activated from the 15-day disabled list.
Schafer had been taking swings off a tee and doing some underwater exercises over the past two days to test the strength of his ankle before putting his full weight on it with above-ground exercise.
"The water takes away a lot of your body weight, that's why we started there," Schafer said before heading out to the field on Friday. "So if I can actually jog by myself with my weight on the field today, that'll be a big step."
"He said he feels, other than his legs feeling a little jelly, he felt good," Gonzalez said later on Friday, after Schafer had finished testing out the injury.
Eric Single is an associate reporter for MLB.com. This story was not subject to the approval of Major League Baseball or its clubs.